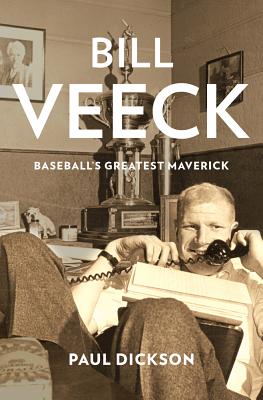 Bill Veeck (Hardcover)
Baseball's Greatest Maverick
Walker Books, 9780802717788, 448pp.
Publication Date: April 24, 2012
* Individual store prices may vary.
Description
William Louis "Bill" Veeck, Jr. (1914-1986) is legendary in many ways-baseball impresario and innovator, independent spirit, champion of civil rights in a time of great change. Paul Dickson has written the first full biography of this towering figure, in the process rewriting many aspects of his life and bringing alive the history of America's pastime. In his late 20s, Veeck bought into his first team, the American Association Milwaukee Brewers. After serving and losing a leg in WWII, he bought the Cleveland Indians in 1946, and a year later broke the color barrier in the American League by signing Larry Doby, a few months after Jackie Robinson-showing the deep commitment he held to integration and equal rights. Cleveland won the World Series in 1948, but Veeck sold the team for financial reasons the next year. He bought a majority of the St. Louis Browns in 1951, sold it three years later, then returned in 1959 to buy the other Chicago team, the White Sox, winning the American League pennant his first year. Ill health led him to sell two years later, only to gain ownership again, 1975-1981. Veeck's promotional spirit-the likes of clown prince Max Patkin and midget Eddie Gaedel are inextricably connected with him-and passion endeared him to fans, while his feel for the game led him to propose innovations way ahead of their time, and his deep sense of morality not only integrated the sport but helped usher in the free agency that broke the stranglehold owners had on players. (Veeck was the only owner to testify in support of Curt Flood during his landmark free agency case). Bill Veeck: Baseball's Greatest Maverick is a deeply insightful, powerful biography of a fascinating figure. It will take its place beside the recent bestselling biographies of Satchel Paige and Mickey Mantle, and will be the baseball book of the season in Spring 2012.
About the Author
Paul Dickson is the author of several classic baseball books, including The Dickson Baseball Dictionary, The Unwritten Rules of Baseball, The Hidden Language of Baseball, and The Joy of Keeping Score. He is also the author of the classic narrative history Sputnik: The Shock of the Century, and the co-author of the acclaimed The Bonus Army: An American Epic. He lives in Garrett Park, Maryland.
Praise For Bill Veeck: Baseball's Greatest Maverick…
    Bill Veeck—The award-winning biography of baseball's greatest maverick by Paul Dickson:
Casey Award for the best baseball book of 2012 from Spitball Magazine.
Reader's Choice Award from the Baseball Caucus of the Special Libraries Association of America which is also for the best baseball book of 2012.
 2012 Jerome Holtzman Award from the Chicago Baseball Museum.
Dickson has also been awarded the Henry Chadwick Award from the Society for Baseball Research for 2012 for his lifetime achievements as a baseball researcher and  scholar. In 2011 Dickson won the Tony Salin Award from the Baseball Reliquary for his contributions to the preservation of the history of the game.
"Veeck was a one of a kind whose impact reached beyond the ballpark, into the very fiber of 20th-century America. Dickson has captured it all in entertaining fashion."—
James Bailey, Baseball America
"Paul Dickson's excellent biography
Bill Veeck: Baseball's Greatest Maverick
is among the few great biographies set in sports. Beyond that it is the story of a singular fellow whose energy, determination, wit, and powerful commitment to fairness spiced with an unquenchable sense of the absurd enabled him to live an exceptionally full and passionate life."—
Bill Littlefield,
The Boston Globe
"In this crisply written, admiring but never fawning chronicle, Dickson makes a strong case for Veeck as the most influential baseball executive who ever lived. He was certainly the most entertaining."—
Marc Mohan,
The Portland Oregonian
"One outstanding question hangs over Paul Dickson's new biography,
Bill Veeck, Baseball's Greatest Maverick:
Why did it take so long for the most colorful and perhaps most influential figure in baseball history to get a definitive biography? Probably because it took more than 20 years after Veeck's death (in 1986) to put all the facets of his amazing life together. Dickson, author of several superb baseball books, including
The Dickson Baseball Dictionary
and
Baseball is… Defining the National Pastime,
has done more than write the best baseball biography so far this decade. He's written an important piece of baseball history." —
Allen Barra, The Chicago Tribune
"Paul Dickson has written the comprehensive biography."—Dave Hoekstra, Chicago Sun-Times
"In his lively (and occasionally beatific) biography, baseball and cultural historian Paul Dickson brings Veeck to life, relentlessly digging into his career and times to create a portrait of the kind of guy you'd like to have in your corner - or at your table for a drink." – Chris Foran, Milwaukee Journal-Sentinel
"Dickson renders an engaging portrait of a man who was more than just the facilitator of Eddie Gaedel, Larry Doby, and Comiskey Park's exploding scoreboard...[He] lucidly brings Veeck into focus."
—NINE: A Journal of Baseball History & Culture
"
Bill Veeck: Baseball's Greatest Maverick
incorporates the picaresque anecdotes and populist charm of Veeck's memoirs into a narrative marked by Mr. Dickson's broad knowledge and fluid authority. The result is a biography that newcomers to the Veeck legend are likely to find immensely appealing, but one that also makes him new again for those who have already savored the baseball showman's own episodic volumes."—
Maxwell Carter, The Wall Street Journal
"The proof of goodness is usually in the details, so it becomes clear right off the bat that Dickson has written an authoritative work."—
Mike Downey, The Los Angeles Times
"Bill Veeck
comes as close to a "must-read" as any baseball book in recent memory. Grade: Home run."
–Mark Hodermarsky, Cleveland Plain Dealer
  "Dickson gives Veeck his due in a volume sure to have a long shelf life."
–Booklist
"An engaging biography of Bill Veeck…[Dickson] expertly evokes Veeck's populist, garrulous public persona, while at the same time showing the private pain he endured as a World War II injury caused him to have countless amputations of portions of his right leg, leading to deterioration and ruin of the rest of his body, but not his spirit. Veeck is not as well remembered as he should be. Dickson's book is a skillful corrective."
–Kirkus
"Paul Dickson has knocked another one out of the park with
Bill Veeck: Baseball's Greatest Maverick
a skillfully written biography, scrupulously researched, brimming with revealing anecdotes and historical detail ….So if you're planning your summer reading list, I recommend you place  Dickson's enlightening and highly entertaining biography on one of baseball's most combative if influential owners at the very top of your list."—
Bill Lucey, The Morning Delivery
. "Dickson brings the larger-than-life presence of Veeck into sharper focus, and re-introduces his innovative baseball mind in a fresh light. It's a smart, detailed and precise read, showing the same delightful candor that Veeck displayed during his heyday."—
Bob D'Angelo, Tampa Tribune
"Paul Dickson's biography of Bill Veeck is thorough, entertaining, and superb."—
Bill Littlefield, NPR "Only A Game."
"Any man who wanted to be included on Richard Nixon's enemies list is worthy of a searching biography—and Paul Dickson has been kind ehough to do that for us with his compelling portrait of the unregenerate Bill Veeck."—
Ray Robinson, author of Iron Horse: Lou Gehrig In His Time.
"A definitive look at one of baseball's greatest innovators and ambassadors. A must-read."
—Claire Smith, ESPN
"Paul Dickson has written a definitive biography."—
Vick Mikunas, Dayton Daily News
"
Bill Veeck: Baseball's Greatest Maverick
is a deeply insightful, powerful biography of a fascinating figure. It will take its place beside the recent bestselling biographies of Satchel Paige and Mickey Mantle, and will be the baseball book of the season in Spring 2012."—
Feedbooks
"[Veeck] never truly got the recognition he deserved. Now he has."—
Sports Books Reviews by Harvey Frommer
"Dickson is a master with words …He's got a voice that works with this subject, thankfully, and keeps it on track when all craziness could be breaking out. …. In fact, it's about time, and there has to be a way for someone to use this as a launching point for a movie about Veeck's life on the big screen." —
Tom Hoffarth, Los Angeles Daily News
"[S]ure to entertain is Paul Dickson's latest:
Bill Veeck: Baseball's Greatest Maverick
(Walker). As you'd expect, Veeck's trials, tribulations and experiments with the great game as its greatest promoter may well hold center stage, but Dickson has done something with this biography that I particularly loved … which is to write a book that also covers this man's life outside of the game"
—Christina Kahrl, ESPN, "Sweet Spot"
"BILL VEECK, in the language of the subject, is a homerun—a bases clearer. The story of the remarkable full-life of this pioneering baseball character is told with the steadiness, detail and flare that we have come to expect from Paul Dickson,  the premier all-star writer and reporter. The book is great fun—much like being in the bleachers during a day game."—
Jim Lehrer
"Bill Veeck didn't want to break rules, he insisted, just "test their elasticity." He wasn't talking only about baseball. The master showman, who famously sent a three-foot-seven-inch batter to the plate, also desegregated the American League and proudly marched in the funeral procession for Dr. Martin Luther King—on his peg leg and without crutches. BILL VEECK revisits a golden age for baseball, a pivotal time for America and some hilarious moments in the life of a man who helped to change both."—
Clarence Page, Chicago Tribune
"Bill Veeck was inventive, courageous, principled, and hugely influential--the Thomas Paine of a revolutionary time in baseball … [who] has awaited a clear-eyed admiring chronicler, and in Paul Dickson he has found him. This amazingly detailed, delicious biography is, as its subject might have titled it, VEECK--AS IN SPEC-tacular!"—
John Thorn, Official Historian, Major League Baseball, and author of Baseball in the Garden of Eden
"[So] don't resist. Buy Paul Dickson's new book and have a blast."
—Larry Tye, author of Satchel: The Life and Times of an American Legend
"Bill Veeck has finally met his match.  Paul Dickson, consummate baseball historian, has given Veeck the biography he deserves. Meticulously reported and exhaustively researched,
Bill Veeck: Baseball's Greatest Maverick
is, like its subject, a show-stopper."
—Jane Leavy, author of The Last Boy: Mickey Mantle and the End of America's Childhood and Sandy Koufax
Bill Veeck: Baseball's Greatest Maverick
is a very fine baseball biography that compares with the best work that has been published on the leaders of the sport over the years. Paul Dickson's breezy style illuminates not only the Bill Veeck of legend, but also the real Bill Veeck who worked hard at his craft even as he honed to a fine art the persona of a maverick and a "hustler," the term Veeck liked best in characterizing himself … Lost in all of the showmanship, publicity and stunts, Dickson concludes, was a tremendously sound baseball and business mind."
—Roger Launius, Washington Independent Review of Books
"I was vastly entertained by Paul Dickson's biography of Bill Veeck, the wild man baseball impresario from Chicago. In addition to being an authoritative chronicle of how the game used to be in that halcyon fifty years between 1930 and 1980, it also gives off a reminiscent aura of grass outfields,the comforting feel of a hard bleacher seat, and airmade redolent of popcorn and tobacco. … One of the strong points of this book is the easy-reading, yet knowledgeable voice of the author."—Jim Srodes, American Spectator
"Bill Veeck is as good as it gets when it comes to describing an American original. FIVE STARS."—Budd Bailey, Sports Book Review Center  "The best place to start is to say that I've probably never had as much fun reading a book.  Nor have I ever interrupted my reading so many times to regale my family with passages and anecdotes.  If you haven't picked this book up yet, the time is now.  If you are a baseball fan, a humanitarian, a history buff, someone who enjoys a good story, you'll have a hard time putting it down."—David Karpinski, Baseball Roundtable "Dickson deftly captures this complex character, whose legacy reflects both Eddie Gaedel and Larry Doby, hucksterism and heroics."—Steve Roberts, The Washington Post
or
Not Currently Available for Direct Purchase