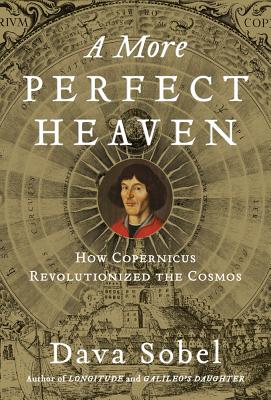 A More Perfect Heaven
How Copernicus Revolutionized the Cosmos
Hardcover

* Individual store prices may vary.
Other Editions of This Title:
Paperback (10/16/2012)
Hardcover (9/1/2011)
Description
By 1514, the reclusive cleric Nicolaus Copernicus had written and hand-copied an initial outline of his heliocentric theory-in which he defied common sense and received wisdom to place the sun, not the earth, at the center of our universe, and set the earth spinning among the other planets. Over the next two decades, Copernicus expanded his theory through hundreds of observations, while compiling in secret a book-length manuscript that tantalized mathematicians and scientists throughout Europe. For fear of ridicule, he refused to publish.
In 1539, a young German mathematician, Georg Joachim Rheticus, drawn by rumors of a revolution to rival the religious upheaval of Martin Luther's Reformation, traveled to Poland to seek out Copernicus. Two years later, the Protestant youth took leave of his aging Catholic mentor and arranged to have Copernicus's manuscript published, in 1543, as "De revolutionibus orbium coelestium "("On the Revolutions of the Celestial Spheres")-the book that forever changed humankind's place in the universe.
In her elegant, compelling style, Dava Sobel chronicles, as nobody has, the conflicting personalities and extraordinary discoveries that shaped the Copernican Revolution. At the heart of the book is her play "And the Sun Stood Still," imagining Rheticus's struggle to convince Copernicus to let his manuscript see the light of day. As she achieved with her bestsellers "Longitude" and "Galileo's Daughter," Sobel expands the bounds of narration, giving us an unforgettable portrait of scientific achievement, and of the ever-present tensions between science and faith.
Praise For A More Perfect Heaven: How Copernicus Revolutionized the Cosmos…
"Ms. Sobel is an elegant stylist, a riveting and efficient storyteller, a writer who can bring the dustiest of subjects to full-blooded life — poignant, in the case of Galileo; cautious but also loving, loyal and feisty in the case of Copernicus." —Katherine Bouton, New York Times
"Lively, inventive…a masterly specimen of close-range cultural history. Ms. Sobel certainly brings Copernicus to life, perhaps better than any other author. Ms. Sobel presents a thoroughly researched and eminently readable account of a major scientist who celebrated the sun yet lurks in the shadows." –
The Wall Street Journal
"Dava Sobel describes [Copernicus's] life and his legacy in her enjoyable "A More Perfect Heaven"…[A] delightful immersion into tumultuous times…All this history is just the background for the heart of Sobel's book: the meeting of the aged Copernicus with the young German mathematician Georg Joachim Rheticus, who had heard of Copernicus's ideas and traveled to Poland for a first-hand account. Rheticus stayed, helped Copernicus finish his treatise and, four years later, shepherded it through its first printing…We'll never know precisely how Rheticus convinced Copernicus to finally set it all in print, but, as Sobel shows, we certainly owe him gratitude, for these manuscripts are treasures of our world, tracing our first steps out into an understandable cosmos."
--Mike Brown, Washington Post
"The new work by science writer Dava Sobel, author of "Longitude" (1995) and "
Galileo
's Daughter" (2000) is half-narrative, half-drama — and it's all enthralling, all illuminating. As in her previous bestselling books, Sobel… turns the history of science into a great story filled with fascinating characters, excruciating near-misses and the sudden splendor of the new discovery…A More Perfect Heaven is the story of how a young German mathematician named Rhetiucs finally persuaded Copernicus to publish his outlandish theory. Their relationship is the energizing spark of Sobel's book…Her two-act play "And the Sun Stood Still" is included in A More Perfect Heaven, and it puts flesh on the long-dissolved bones of these historical figures…Sobel, who was writer-in-residence at the U. of C. in 2006, writes with a calm authority and a deep knowledge that never tip into condescension to the lay reader. The haunting final paragraph of this beautiful book, combining science and a sort of poetic awe, is emblematic of her work as a whole."
--Julia Keller, Chicago Tribune
"Like Rumpelstiltskin, Dava Sobel seems able to spin gold out of straw. She has made best-sellers out of two unlikely subjects: the history of longitude and the life of Galileo's daughter…Sobel goes beyond conjecture, which a historian may not, and instead takes conjecture in hand as a playwright can. The center of her book is a fictional two-act play — "And the Sun Stood Still"…It's absorbing and very well-written, and dramatically very effective. And very effective historically, too…The gripe most of us history lovers have with historical fiction is that it imagines too much, reaches too far. Sobel's dramatization gives immediacy to an historical account made up, as much of history is, by peripheral documents — rent transactions, correspondence about local coin values, written in the formalistic and impersonal style of the day…Sobel will have another of her improbable best-sellers, I predict, in this story of how Copernicus went to press — a further example of how an author's wit, intelligence, good grace and imagination can find gold in the most unlikely places."
--David Walton, Kansas City Star 
  "The wonderful detail and eloquent writing that Sobel demonstrated in her best-selling
Longitude
and
Galileo's Daughter
carry the reader along here too. Given what she has chosen to include, the book is first rate…
A More Perfect Heaven
is a charming and accurate book…[T]his carefully constructed biography leaves space for those of us probing the origins of heliocentrism to defend our speculations."
—Owen Gingerich, Nature
"Sobel characteristically gives us the man in full…[she] tells her story fluently." –
Financial Times
"However readers respond to Sobel's unorthodox addition, her account of Copernicus' life nicely balances personal details and such historical forces that knocked Copernicus around as the Reformation and the Teutonic Knights. Sobel's latest assiduously researched, humanistic biography may prove irresistible to history-of-science fans."
—Booklist 
  "Delivered with her usual stylistic grace (and here, a touch of astrological whimsy), Sobel's gamble largely succeeds in bringing Copernicus and his intellectually and religiously tumultuous time alive."
—Publishers Weekly
"A book on science and personality that should intrigue us all."—
Library Journal
"A liquid entertainment of choice passages on the thoughts and deeds of Copernicus."
—Kirkus Reviews
"A refreshingly fast-paced account of the life of Nicolaus Copernicus. 'A More Perfect Heaven' does a good job of giving the flavor of life in Reformation-era Europe…an excellent book."
– The Economist
"As a colorful, singular history, Sobel's narrative doesn't disappoint. But her most surprising and satisfying turn is the two act play, 'And the Sun Stood Still'" –
Men's Journal
Walker & Company, 9780802717931, 273pp.
Publication Date: October 4, 2011
About the Author
Dava Sobel is the acclaimed author of the internationally bestselling titles Longitude, Galileo's Daughter, The Illustrated Longitude, and The Planets. She lives in East Hampton, New York.
Coverage from NPR
or
Not Currently Available for Direct Purchase