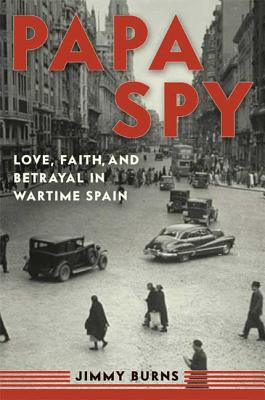 Papa Spy: Love, Faith, and Betrayal in Wartime Spain (Hardcover)
Love, Faith, and Betrayal in Wartime Spain
Walker & Company, 9780802717962, 416pp.
Publication Date: December 22, 2009
* Individual store prices may vary.
or
Not Currently Available for Direct Purchase
Description
A true story of espionage with a plot worthy of John le Carre.
With the declaration of war in 1939, dashing young publisher, Tom Burns, left his business for the Ministry of Information, the propaganda arm of the British secret services, and found himself in Madrid as press attache at the British embassy. Spurred on by his deep love of Spain, he threw himself into the propaganda war against the Nazis, who broadcast freely to the Spanish press. Spain was officially "nonbelligerent" during the war. But nonbelligerent doesn't mean unimportant: Spain held Gibraltar, and so controlled the western Mediterranean. Germany desperately wanted Gibraltar and the Mediterranean for itself, and it was the responsibility of Tom Burns and the rest of the British Ministry of Information to do everything in their power to keep that from happening.
Executing that simple objective became complicated as Burns found he was making enemies in England, not least among them Kim Philby and members of MI 6. In "Papa Spy," Jimmy Burns tells the extraordinary story of how his father overcame the odds, helped carry out the decoy plot called "The Man Who Never Was," arranged what turned out to be actor Leslie Howard's fatal propaganda trip to Portugal and Spain, and remained true to his faith while loyally serving his country.
About the Author
Jimmy Burns writes for the Financial Times. Among his previous books are The Land That Lost Its Heroes (Somerset Maugham nonfiction prize, 1987), Hand of God: The Life of Diego Maradona, and Barca: A People's Passion.
Praise For Papa Spy: Love, Faith, and Betrayal in Wartime Spain…
"Recommended reading for anyone interested in modern Spanish history, World War II diplomacy, espionage activities, and Communist penetration of the British intelligence bureaucracy."—Library Journal
"More memoir than history, the author's re-creation of his father's wartime activities exposes a hive of complex spy games and a fascinating, little-discussed part of WWII. Good and evil blur in this descent into the shadowy, slippery realm of wartime espionage."—Kirkus Reviews
"Recounting his father's extracurricular work, the author levelly assesses their results without overrating their effect on Britain's strategic aim of keeping Spain neutral. The audience for WWII espionage should warm to Burns' tale."—Booklist
"Lovers of Spain, lovers of true spy stories and lovers of love itself will adore this enchanting book: Burns junior has served up a feast."­—Telegraph (UK)
Advertisement