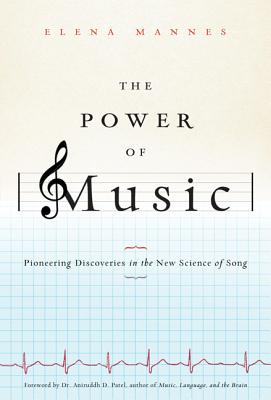 The Power of Music: Pioneering Discoveries in the New Science of Song (Hardcover)
Pioneering Discoveries in the New Science of Song
Walker & Company, 9780802719966, 263pp.
Publication Date: May 24, 2011
* Individual store prices may vary.
or
Not Currently Available for Direct Purchase
Description
The award-winning creator of the acclaimed documentary "The Music Instinct: Science & Song," explores the power of music and its connection to the body, the brain, and the world of nature. Only recently has science sought in earnest to understand and explain this impact. One remarkable recent study, analyzing the cries of newborns, shows that infants' cries contain common musical intervals, and children tease each other in specific, singsong ways no matter where in the world they live. Physics experiments show that sound waves can physically change the structure of a material; musician and world-famous conductor Daniel Barenboim believes musical sound vibrations physically penetrate our bodies, shifting molecules as they do. The Power of Music follows visionary researchers and accomplished musicians to the crossroads of science and culture, to discover: how much of our musicality is learned and how much is innate? Can examining the biological foundations of music help scientists unravel the intricate web of human cognition and brain function? Why is music virtually universal across cultures and time-does it provide some evolutionary advantage? Can music make people healthier? Might music contain organzing principles of harmonic vibration that underlie the cosmos itself?
About the Author
Elena Mannes has won six Emmys and many other national awards for her documentaries. She is a member of one of the first families of American music. Her grandparents founded the Mannes College of Music in New York City; her great uncle, Walter Damrosch, conducted the Metropolitan Opera and was the instigator for the building of Carnegie Hall.
Praise For The Power of Music: Pioneering Discoveries in the New Science of Song…
"Preliminary but striking investigations into the effects of music on everything from string theory to a baby's cry…. A well-tempered introduction to music's far-reaching influence on man, beast and cosmos."—Kirkus Reviews
"This title will be welcomed by those who accept music as a positive force and by readers interested in current scientific trends."
—Barry Zaslow, Library Journal
"I knew nothing about music—except for knowing what music I like—until I took this journey with Elena Mannes. What a trip! Elena Mannes has always crafted exquisite stories for television, winning all the top awards for excellence over her long career at CBS and PBS. Now she has brought that gift for storytelling to
The Power of Music
, laying out even for an untutored layman like me a captivating account of how music connects mind and body. She digs deeply into stunning new research into music's importance in our lives and reveals that science and art are muses that nourish each other and enrich individual lives."
—Bill Moyers
"An important book for anyone who loves music, from the professional performer to the young person listening on earbuds. By the end of this fascinating story, Elena Mannes has led us to realize just how much we take music, its mysteries, and power for granted. This is a refreshing and exciting read that makes everything new again. If this book were required reading in every high school, we would start seeing generations of music scientists, and perhaps even better-equipped performers and audience members—which would naturally lead to music becoming a better-funded and respected subject in our schools than it currently is."
—Deborah Voigt, internationally acclaimed opera soprano
"We've always known that music is a transformative, spiritual experience—now modern science can explain how and why. Elena Mannes explores this groundbreaking and often poetic new territory."
—Bobby McFerrin, vocalist/pianist/conductor
"Recent research on music's effect on the brain has created a firm scientific footing for a proposition that has been evident for millennia, namely, that music is a powerful force in our lives. In The Power of Music, Elena Mannes cites this emerging research in a personal and compelling account of music's impact on us. This is a must read for anyone who, like the author, has felt the transformative influence of music."—Jamshed Bharucha, president, The Cooper Union for the Advancement of Science and Art
Coverage from NPR
Advertisement