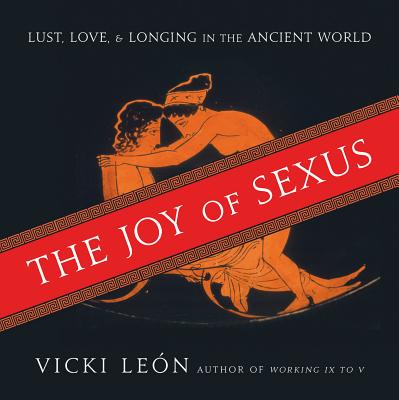 The Joy of Sexus (Paperback)
Lust, Love, and Longing in the Ancient World
Walker Books, 9780802719973, 320pp.
Publication Date: January 29, 2013
* Individual store prices may vary.
Description
In her previous books, Vicki León put readers in the sandals of now obsolete laborers, ranging from funeral clowns to armpit pluckers, and untangled the twisted threads of superstition and science in antiquity. Now, in this book of astonishing true tales of love and sex in long-ago Greece, Rome, and other cultures around the Mediterranean, she opens the doors to shadowy rooms and parts the curtains of decorum.
León goes far beyond what we think we know about sex in ancient times, taking readers on a randy tour of aphrodisiacs and anti-aphrodisiacs, contraception, nymphomania, bisexuality, cross-dressing, and gender-bending. She explains citizens' fear of hermaphrodites, investigates the stinging price paid for adultery despite the ease of divorce, introduces readers to a surprising array of saucy pornographers, and even describes the eco-friendly dildos used by libidinous ancients. Love also gets its due, with true tales of the lifelong bonds between military men, history's first cougar and her devoted relationship with Julius Caesar, and the deification of lovers.
About the Author
Vicki León calls the central coast of California home but returns often to her Mediterranean sources. Having honed her research skills by unearthing nine hundred achievers for her Uppity Women series of books, she's delved deeply into the ancient world with Working IX to V, How to Mellify a Corpse, and, of course, The Joy of Sexus. Visit her website at www.vickileon.com.
Praise For The Joy of Sexus: Lust, Love, and Longing in the Ancient World…
"A snappy ride into the stunning, sometimes barbaric, and always entertaining sexuality of the ancient world...This is a fun, enlightening trip into the ancient world not covered in high school textbooks." —Publishers Weekly (starred review)
"In concise entries divided into nine readable sections, León delivers a snappy ride into the stunning, sometimes barbaric, and always entertaining sexuality of the ancient world. From aphrodisiacs and diaphanous silks to abduction and the very upsetting practice of infibulation, she minces no words exposing the truth behind ancient sex practices." —Publishers Weekly, a "best new book of the week"
"Enjoyable, edifying, and humorous." —Kirkus Reviews
or
Not Currently Available for Direct Purchase