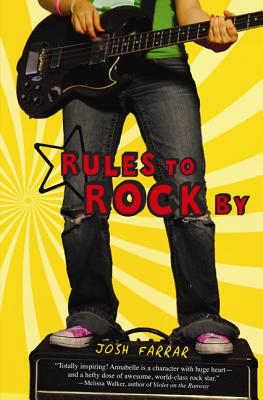 Rules to Rock By (Hardcover)
Walker Childrens, 9780802720795, 256pp.
Publication Date: July 1, 2010
* Individual store prices may vary.
Description
You'd never guess it now, but Annabelle Cabrera used to be a rock star. And not like her mom or dad called her a "total rock star" after she won a spelling bee or something. She was a real rock star, the bassist of Egg Mountain, the most popular band in the New York music scene. But when her parents uproot her from Brooklyn and move her to Rhode Island so they can record their own album, Annabelle feels lost. Starting a new band isn't as easy as she'd hoped, the school's rival band is a bunch of bullies, and her parents are so immersed in recording that they're completely neglecting Annabelle and her younger brother. How can Annabelle truly make herself heard?
About the Author
Josh Farrar is a writer and musician. He has written over 200 songs, but Rules to Rock By is his first book. Josh drew on his own experience playing in bands as a teenager, but he was equally inspired by such contemporary indie-teen bands as Care Bears on Fire, Smoosh, and Tiny Masters of Today. Josh has collaborated with the Creative Arts Program in Brooklyn to record demos of up-and-coming tween bands, as well as with the Willie Mae Rock Camp to develop scholarships for future rockers. Josh lives in Brooklyn, NY.
or
Not Currently Available for Direct Purchase