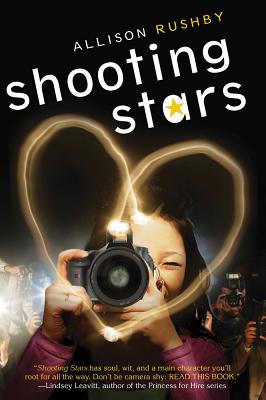 Shooting Stars
Paperback

* Individual store prices may vary.
Other Editions of This Title:
Hardcover (2/28/2012)
Description
Everyone agrees that the paparazzi are the scourge of the earth. They're low. They're despicable. They'll do anything for that perfect shot. And yet...how long could "you" go without your "Us Weekly" fix?
Meet Josephine Foster, or 'Zo Jo as she's called in the biz. The best pint-sized photographer of them all, Jo knows that the public-and the stars-have a symbiotic relationship with the paparazzi. She doesn't mind doing what it takes to get that perfect shot, until she's sent on a major undercover assignment to shoot Ned Hartnett-teen superstar and the only celebrity who's ever been kind to her-at an exclusive rehabilitation retreat. The money will be enough to pay for Jo's dream: fine portrait photography classes, and maybe even quitting her 'zo gig for good.
Everyone at the retreat wants to know: what Ned's in for? But Jo certainly doesn't know what "she's" in for: falling in love with Ned was never supposed to be part of her assignment . . .
Walker & Company, 9780802722980, 265pp.
Publication Date: February 28, 2012
About the Author
ALLISON RUSHBY, having failed to become a ballerina with pierced ears (her childhood dream), tried writing instead. This has worked out much better for her, since it means she gets to write off her book and DVD purchases at tax time and eat a lot more than a ballerina ever could. She is the author of four teen novels and five adult novels, all published by Random House in Allison's native Australia. She Twitters regularly and blogs at www.AllisonRushby.com. Oh, and she got the pierced ears in the end.
or
Not Currently Available for Direct Purchase