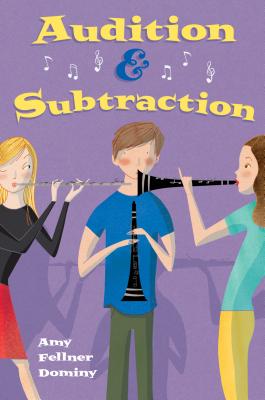 Audition & Subtraction (Hardcover)
Walker & Company, 9780802723741, 264pp.
Publication Date: September 4, 2012
* Individual store prices may vary.
Description
Best friends Tatum and Lori are used to doing everything together-including a clarinet/flute duet for District Honor Band auditions. But all that changes when Michael transfers to their middle school, and into their band. Suddenly, not only is he competition for Tatum's spot on stage, but he's stealing Lori, too. Tatum doesn't like change no matter its form: not with her good friend Aaron, who seems to believe her fib that they're secretly boyfriend and girlfriend. And not with her mom either, who, to cope with a separation from her dad, is performing in community theater, of all things
Amy Fellner Dominy composes an equally heartwarming and hilarious story of how holding tight to the status quo can mean missing out on the future-and how often times the best way to move forward is by going solo.
About the Author
AMY FELLNER DOMINY is also the author of OyMG. She worked as a copywriter in the advertising business for twenty years before leaving to earn her MFA as a playwright. Her plays for adults and children have been staged in various cities around the country. She lives in Phoenix, Arizona, with her husband and two teenage children. www.amyfellnerdominy.com
or
Not Currently Available for Direct Purchase