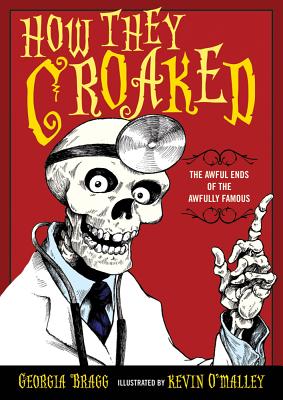 How They Croaked (Paperback)
The Awful Ends of the Awfully Famous
Walker & Company, 9780802727947, 184pp.
Publication Date: July 3, 2012
Description
Over the course of history men and women have lived and died. In fact, getting sick and dying can be a big, ugly mess-especially before the modern medical care that we all enjoy today. How They Croaked relays all the gory details of how nineteen world figures gave up the ghost. Readers will be fascinated well past the final curtain, and feel lucky to live in a world with painkillers, X-rays, soap, and 911.
About the Author
Georgia Bragg is the author of Matisse on the Loose, a middle-grade novel. She lives in Los Angeles with her husband, two children, and two cats.?www.georgiabragg.com Kevin O'Malley is the co-author and illustrator of the popular Miss Malarkey series, as well as the New York Times bestseller Gimme Cracked Corn and I Will Share and many other books for children. He lives in Maryland.?www.booksbyomalley.com
Advertisement