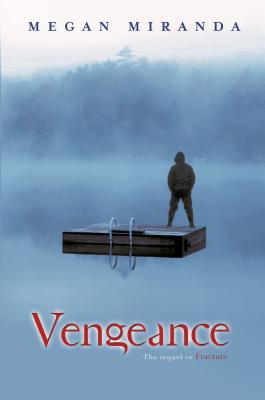 Vengeance
Hardcover

* Individual store prices may vary.
Other Editions of This Title:
Paperback (3/20/2018)
Paperback (1/6/2015)
Description
Nobody really believes in a curse. Until you know the people who disappear. Too much coincidence, you look for reason. Too much death, you grasp for something to blame. Carson pulled Delaney out and he died on the side of the road with her mouth pressed to his. Her air in his body. Troy. She told the cops it was suicide. Didn't matter. The lake released her and grabbed another. But when Decker's father dies in a pool of spilled water on their kitchen floor, all Decker can feel is a slow burning rage. Because he knows that Delaney knew that his dad was going to die. She knew and backed out of his house and never said a word. Falcon Lake still has a hold on them both, and Decker can't forgive Delaney until he knows why.
Praise For Vengeance…
"The realistic mystery wrapped in an eerie supernatural atmosphere will appeal to fans of both genres." —Kirkus Reviews
"The reader will fly through the pages, attempting to reconcile the terrible events that plague this likeable, very human group of teens." —Booklist
"A satisfying follow-up." —School Library Journal
"Miranda's riveting plot drives to an equally tense climax as she gracefully weaves together themes of suffering, compassion, jealousy, friendship, and trust. The fluid writing, empathetic characters, and big questions raised elevate this paranormal romance into a haunting meditation on what it means to be human and to truly live." —Publishers Weekly, starred review, on Fracture
"Readers will think about Fracture hours, perhaps days, after they complete it. The writing is excellent." —Examiner.com, on Fracture
"The science angle gives this mystery a fresh, intriguing twist, and Delaney's intelligent first-person voice and sensitive reflections deepen it. Teens will respond to Delaney as she negotiates the changes that fracture lives and create beginnings as well as endings." —The Washington Post, on Fracture
"A compelling psychological thriller . . . fresh, addicting, and smart." —VOYA, on Hysteria
"Questions the reliability of memory, the insidiousness of guilt, and what it truly means to be haunted." —Publishers Weekly, on Hysteria
"An atmospheric thriller, ripe with tension." —Kirkus Reviews, on Hysteria
Bloomsbury Children's Books, 9780802735034, 352pp.
Publication Date: February 4, 2014
About the Author
Megan Miranda was a scientist and high school teacher before writing Fracture, which came out of her fascination with scientific mysteries-especially those associated with the brain. Megan has a BS in biology from MIT and spent her post-college years either rocking a lab coat or reading books. She lives near Charlotte, North Carolina, where she volunteers as an MIT Educational Counselor. Fracture is her first novel.
www.meganmiranda.com
or
Not Currently Available for Direct Purchase