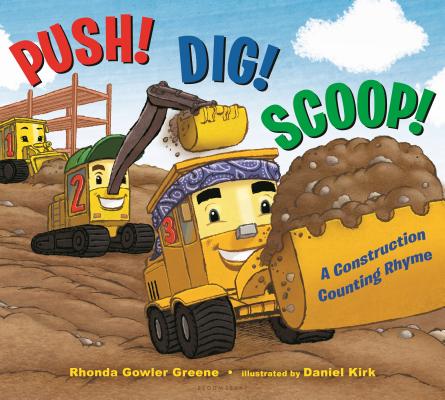 Push! Dig! Scoop! (Hardcover)
A Construction Counting Rhyme
Bloomsbury USA Childrens, 9780802735065, 32pp.
Publication Date: October 25, 2016
Other Editions of This Title:
Board book (5/2/2017)
* Individual store prices may vary.
Description
Down at the construction site, mama and papa trucks show their youngsters how to build. Push oosh goes a big mama bulldozer and her one little dozer! Dig schlup goes a tough papa excavator and his two little excavators!
Count along with every scooping, mashing, and spinning family of trucks in the construction site--all the way from the bright early morning till it's time to snuggle in to bed. Picture book talents Rhonda Gowler Greene and Daniel Kirk have joined together for a book that will dig its way into the hearts of those who love Where Do Diggers Sleep at Night? and Digger, Dozer, Dumper.
About the Author
Rhonda Gowler Greene has fond memories of being at her grandma's. She remembers driving a tractor, climbing huge trees, and catching lots of fireflies. Ms. Greene is the author of Barnyard Song and The Stable Where Jesus Was Born. A former preschool and elementary teacher, she lives in West Bloomfield, Michigan, with her family.
Praise For Push! Dig! Scoop!: A Construction Counting Rhyme…
"The addition of the sound effects is a nice touch that will be appreciated by storytime audiences. . . . Counting practice for construction-truck fans." - Kirkus Reviews
"Showing the gentler side of construction sites and big rigs, Greene and Kirk's excursion should satisfy young truck-lovers." - Publishers Weekly
"A clever reimagining of "Over in the Meadow" featuring different families of construction trucks . . . Greene is in tune with preschoolers and has created a sensitive rhyming and counting book. . . . This appealing picture book will work well in classrooms and storytimes and as a bedtime read. A must-have for most collections." - School Library Journal
"In this well-conceived, bouncy and colorful primer, Greene builds up various geometric shapes from a line. . . . A clever and fun introduction to the assorted shapes." - starred review, Publishers Weekly on WHEN A LINE BENDS . . . A SHAPE BEGINS
"In prose reminiscent of the 'Old MacDonald' song, Greene develops an amusing story. . . . A storytime winner." - starred review, School Library Journal on BARNYARD SONG
"A loving, deeply satisfying story that lights up the path toward sweet dreams." - starred review, Booklist on AT GRANDMA'S
"The poetry flows naturally. . . . Both the text and illustrations give a sense of cheerfulness and warmth." - School Library Journal on DADDY IS A COZY HUG
"A sure-fire hit. . . . Fun, fun, fun." - starred review, Booklist on LIBRARY MOUSE
"Kirk soups up his streamlined oil paintings with comic nuance. The dog characterizations are a stitch, and youngsters will enjoy the subtle jokes. A load of fun." - Publishers Weekly on MY TRUCK IS STUCK
"Pre-schoolers will love this bright picture book about a day in the life of a busy freight train. Kirk's color saturated pictures are a feast for the eye, with many wonderful details for little ones to explore. A surefire hit with budding engineers." - Booklist on CHUGGA-CHUGGA CHOO-CHOO
"Kirk in top form. The smooth, bright surfaces and chunky objects will remind readers of their own toys, while the dramatic, dynamic perspectives exude just the right amount of brought-to-life magic." - Publishers Weekly on TUGGA-TUGGA TUG BOAT