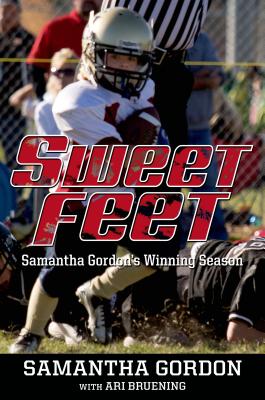 Sweet Feet (Hardcover)
Samantha Gordon's Winning Season
Walker Childrens, 9780802736543, 168pp.
Publication Date: October 15, 2013
* Individual store prices may vary.
Description
Ten-year-old Samantha Sweet Feet Gordon isn't just a girl who plays football. She's also the best player in a league full of boys and has become an online sensation. Known for flying past the defense to reach the end zone 35 times while racking up almost 2,000 yards in one season, Sam's YouTube highlight reel made her an overnight sensation. Appearing in her own Super Bowl commercial and on ESPN, Good Morning America, and Cartoon Network, Sam's attitude that girls can do anything, has inspired people across the world, from the U.S. women's soccer team to NFL greats to other kids just like her. She even got her own Wheaties box-the first one to ever feature a female football player. Sam's courage on and off the football field has lead her to greatness, but there were times when it wasn't easy. Readers will hear Sam Gordon's take on her love of football, her rise to fame, and her hopes for the future in this exciting autobiography full of stories and photos that will inspire all kids to go for their dreams.
About the Author
Samantha "Sweet Feet" Gordon is a ten-year-old football sensation who made international headlines by crushing the competition in a league of boys. She gained celebrity status when her football highlight reel reached almost five million views on YouTube in just three days. Since then she's appeared on over 700 TV programs, including a Super Bowl commercial, ESPN, Good Morning America, and Cartoon Network, and has thousands of Twitter followers. Sam is finishing up the fourth grade in Utah, where she lives with her family, and is excited to play football again next season.Ari Bruening is an urban planner, attorney, writer, and avid football fan who graduated magna cum laude from Harvard Law School. A friend of Sam Gordon's family, Ari lives in Utah with his wife and three children, who he hopes are inspired by Sam to believe they can do anything they want in life. This is his first book for young readers.
or
Not Currently Available for Direct Purchase