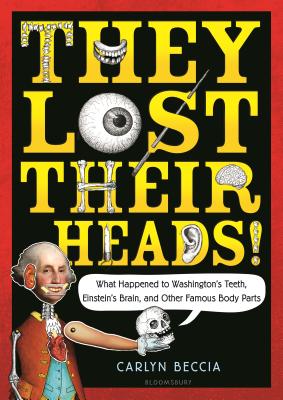 They Lost Their Heads! (Hardcover)
What Happened to Washington's Teeth, Einstein's Brain, and Other Famous Body Parts
Bloomsbury USA Childrens, 9780802737458, 192pp.
Publication Date: April 3, 2018
Other Editions of This Title:
Paperback (4/2/2019)
* Individual store prices may vary.
Description
From the kidnapping of Einstein's brain to the horrifying end of Louis XIV's heart, the mysteries surrounding some of history's most famous body parts range from medical to macabre. Carlyn Beccia explores the misadventures of noteworthy body parts through history and springboards to exploring STEM topics such as forensics, DNA testing, brain science, organ donation, and cloning. The engaging tone, wonderfully creepy subject matter, and delightfully detailed art are sure to capture even the most reluctant readers.
The famous people and their body parts include:
Galileo Galilei / Fingers
Louis XIV / Heart
George Washington / Teeth
Franz Joseph Hadyn / Head
Beethoven / Hair
Abraham Lincoln / Body
Chang and Eng Bunker / Liver
Phineas Gage / Skull
John Wilkes Booth / Neck vertebrae
Sarah Bernhardt / Leg
Vincent Van Gogh / Ear
Mata Hari / Head
Albert Einstein / Brain
Elvis Presley / Wart
Thomas Edison / Last Breath
About the Author
Carlyn Beccia (pronounced Betcha) is an author, illustrator, graphic designer, and organ donor who (so far) has kept all her body parts. Beccia's children's books, including Who Put the B In the Ballyhoo?, Raucous Royals, and I Feel Better with a Frog In My Throat, have won numerous awards including the Golden Kite Honor, the International Reading Association's Children's and Young Adult Book Award, and the Cybil Award.
carlynbeccia.com
@carlynbeccia (Instagram)
Praise For They Lost Their Heads!: What Happened to Washington's Teeth, Einstein's Brain, and Other Famous Body Parts…
"Frequent black-and-white spot art and snarky footnote asides add comedy to this already high-interest blend of history and science. Entertaining and fascinating, with a clever incorporation of STEM topics." - starred review, Booklist
"Beccia's light, cheeky approach to the subject matter is tailor-made for a middle-grade audience . . . Readers fond of the gruesome and grotesque with a heavy dose of humor will find much to enjoy here." - Kirkus Reviews
"[A] quirky, clever compendium. . . . The author's chatty, irreverent narrative profiles each highlighted luminary and offers supplementary info on such topics as embalming, phrenology, and cryonics—and ample doses of downright creepy, kid-pleasing trivia." - Publishers Weekly
"This topic is one that has perpetual appeal to middle school readers." - School Library Journal