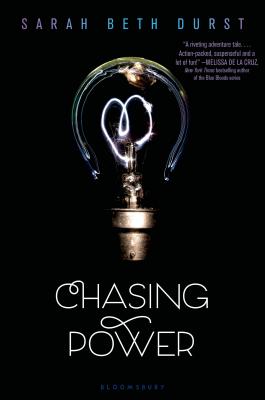 Chasing Power
Hardcover

* Individual store prices may vary.
Description
Sixteen-year-old Kayla was born with the ability to move things with her mind-things like credit cards and buttons on cash registers-and she has become a master shoplifter. She steals to build up enough money for her and her mom to be able to flee if her dad finds them again . . . which would mean grave danger for them both.

When she's caught stealing by a boy named Daniel-a boy with the ability to teleport-he needs her help and is willing to blackmail her to get it. Together, they embark on a quest to find and steal an ancient incantation, written on three indestructible stones and hidden millennia ago, all to rescue Daniel's kidnapped mother. But Kayla has no idea that this rescue mission will lead back to her own family-and to betrayals that she may not be able to forgive . . . or survive.
Praise For Chasing Power…
"Durst delivers a fun adventure with a superpowered twist . . . Think The Mummy (temples, tombs, and all) with Veronica Mars calling the shots, and a dash of romance in the mix." —Publishers Weekly

"Snappy dialogue, snarky teens and explosive exploits. A quick but complex read--enjoyable on both counts." —Kirkus Reviews

"Fans of Durst's earlier works will find plenty to like about Kayla and her paranormal adventure." —Booklist

"Part Indiana Jones, part Jumper, the heroes travel faster than the speed of light, but even that isn't quick enough for them to escape the treachery, mystery, and danger waiting around every corner." —Colleen Houck, New York Times bestselling author of the Tiger's Curse series

"Durst excels at describing grotesque violence and gorgeous magical transformations alike, painting a touching portrait of first love against a backdrop of Twilight Zone–type terrors.Patient readers will respond to this slow thriller about a girl with memory loss and magical powers, and a murderer on the loose." —Kirkus Reviews on Conjured

"With strong folklore elements, a striking setting, and thoroughly imagined characters, Durst has woven a story that does not shy from the bawdy, violent, or pragmatic realities of life." —Publishers Weekly on Vessel

"A fast-paced, thrilling adventure . . . the highly descriptive writing forms intense visuals for the reader so that characters, animals, and locations feel rich and realistic." —VOYA on Vessel

"Combining a sense of humor with dark appeal of supernatural romance, this book is funny, scary and thought provoking all at once . . . Even jaded fans of the supernatural find fun in this one." —Kirkus Reviews on Drink, Slay, Love

"A fresh, modern, and humorous twist on the vampire novel . . . Durst's snappy dialogue and vivid prose are entertaining and the straightforward plot moves at a good clip, scattering enough clues to heighten anticipation without spoiling the fun." —Publishers Weekly on Drink, Slay, Love

"Twisty, absorbing and satisfying." —Publishers Weekly on Ice

"Durst flawlessly weaves together romance, adventure, and a modern sensibility to create a highly inventive and suspenseful story of a girl on the cusp of adulthood." —School Library Journal on Ice
Bloomsbury USA Childrens, 9780802737557, 376pp.
Publication Date: October 14, 2014
About the Author
SARAH BETH DURST is the author of the young adult novels Conjured, Vessel, Drink Slay Love, Enchanted Ivy, and Ice, as well as the middle grade novels Into the Wild and Out of the Wild. Sarah lives with her husband and children in Stony Brook, New York.
SarahBethDurst.com
@sarahbethdurst
or
Not Currently Available for Direct Purchase