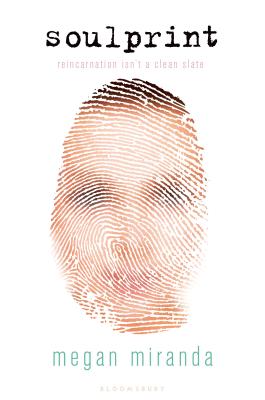 Soulprint
Hardcover

* Individual store prices may vary.
Description
Seventeen-year-old Alina Chase has spent her entire life imprisoned on a secluded island—not for a crime she committed in this lifetime, but one done by her past self. Her very soul is like a fingerprint, carried from one life to the next—and Alina is sick of being guilty.
Aided by three teens with their own ulterior motives, Alina manages to escape. Although she's not sure she can trust any of them, she soon finds herself drawn to Cameron, the most enigmatic and alluring of the trio. But when she uncovers clues from her past life, secrets begin to unravel and Alina must figure out whether she's more than the soul she inherited, or if she's fated to repeat history.
This stunning "new world" romance from acclaimed author Megan Miranda will leave readers wondering how far they would go to escape the past.
Praise For Soulprint…
"Teens will thrill to the suspense that Miranda coils around a solid plot. . . . A surprising new sf thriller with just enough of a touch of romance." —Booklist
"The author gives thoughtful readers deep philosophical questions to chew on and thrill-seekers the high-octane pace they crave . . . A thought-provoking, action-packed novel." —School Library Journal
"Absorbing adventure . . . a heady mixture of consistent action, well-timed reveals, and unpredictable twists." —BCCB
"Miranda's riveting plot drives to an equally tense climax as she gracefully weaves together themes of suffering, compassion, jealousy, friendship, and trust. The fluid writing, empathetic characters, and big questions raised elevate this paranormal romance into a haunting meditation on what it means to be human and to truly live." —starred review, Publishers Weekly on FRACTURE
"Readers will think about Fracture hours, perhaps days, after they complete it. The writing is excellent." —Examiner.com
"The science angle gives this mystery a fresh, intriguing twist, and Delaney's intelligent first-person voice and sensitive reflections deepen it. Teens will respond to Delaney as she negotiates the changes that fracture lives and create beginnings as well as endings." —The Washington Post on FRACTURE
"A compelling psychological thriller . . . fresh, addicting, and smart." —VOYA on HYSTERIA
"An atmospheric thriller, ripe with tension." —Kirkus Reviews on HYSTERIA
"Questions the reliability of memory, the insidiousness of guilt, and what it truly means to be haunted." —Publishers Weekly on HYSTERIA
Bloomsbury USA Childrens, 9780802737748, 368pp.
Publication Date: February 3, 2015
About the Author
Megan Miranda was a scientist and high school teacher before writing Fracture, which came out of her fascination with scientific mysteries-especially those associated with the brain. Megan has a BS in biology from MIT and spent her post-college years either rocking a lab coat or reading books. She lives near Charlotte, North Carolina, where she volunteers as an MIT Educational Counselor. Fracture is her first novel.
www.meganmiranda.com
or
Not Currently Available for Direct Purchase