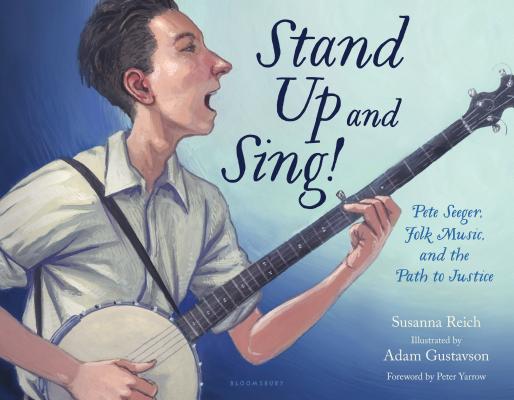 Stand Up and Sing! (Hardcover)
Pete Seeger, Folk Music, and the Path to Justice
Bloomsbury U.S.A. Children's Books, 9780802738127, 48pp.
Publication Date: March 14, 2017
* Individual store prices may vary.
Description
Inspired by the rhythms of American folk music, this moving account of Pete Seeger's life celebrates his legacy, showing kids of every generation that no cause is too small and no obstacle too large if, together, you stand up and sing

Pete Seeger was born with music in his bones. Coming of age during the Great Depression, Pete saw poverty and adversity that would forever shape his worldview, but it wasn't until he received his first banjo that he found his way to change the world. It was plucking banjo strings and singing folk songs that showed Pete how music had the incredible power to bring people together.
Using this gift throughout his life, Pete encouraged others to rally behind causes that mattered--fighting for Civil Rights, ending the Vietnam War, or cleaning up the Hudson River. For Pete, no challenge was too great, and what started out as a love for music turned into a lifetime of activism and change. His greatest talent--and greatest passion--would become an unforgettable part of American history.
About the Author
Susanna Reich is the award-winning author of both fiction and nonfiction books that have received many starred reviews and honors, such as Four Fab Friends: The Boys Who Became the Beatles and Minette's Feast: The Delicious Story of Julia Child and Her Cat. She lives in Ossining, NY, with her husband, children's book author, Gary Golio. www.susannareich.comAdam Gustavson is the illustrator of over twenty books for children, including the Sydney Taylor Honor winner, The Yankee at the Seder; Rock 'n' Roll Highway, a Bank Street Best Book of the Year and a CBC Children's Choices Award winner; and Amelia Bloomer Award winner, Rough, Tough Charley. Adam holds an MFA from the School of Visual Arts and teaches at the University of the Arts in Philadelphia. He lives in New Jersey with his wife and children. www.adamgustavson.com.