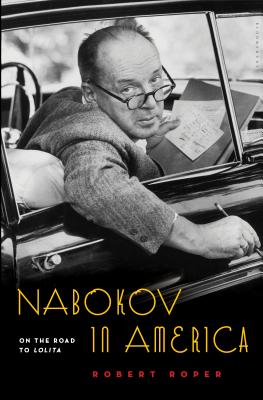 Nabokov in America (Hardcover)
On the Road to Lolita
Bloomsbury USA, 9780802743633, 368pp.
Publication Date: June 9, 2015
Other Editions of This Title:
Paperback (12/13/2016)
MP3 CD (8/4/2015)
* Individual store prices may vary.
Description
A unique portrait of Vladimir Nabokov told through the lens of the years he spent in a land that enchanted him, America.

The author of the immortal Lolita and Pale Fire, born to an eminent Russian family, conjures the apotheosis of the high modernist artist: cultured, refined--as European as they come. But Vladimir Nabokov, who came to America fleeing the Nazis, came to think of his time here as the richest of his life. Indeed, Nabokov was not only happiest here, but his best work flowed from his response to this exotic land.

Robert Roper fills out this period in the writer's life with charm and insight--covering Nabokov's critical friendship with Edmund Wilson, his time at Cornell, his role at Harvard's Museum of Comparative Zoology. But Nabokov in America finds its narrative heart in his serial sojourns into the wilds of the West, undertaken with his wife, Vera, and their son over more than a decade. Nabokov covered more than 200,000 miles as he indulged his other passion: butterfly collecting. Roper has mined fresh sources to bring detail to these journeys, and traces their significant influence in Nabokov's work: on two-lane highways and in late-'40s motels and cafés, we feel Lolita draw near, and understand Nabokov's seductive familiarity with the American mundane. Nabokov in America is also a love letter to U.S. literature, in Nabokov's broad embrace of it from Melville to the Beats. Reading Roper, we feel anew the mountain breezes and the miles logged, the rich learning and the Romantic mind behind some of Nabokov's most beloved books.
About the Author
Robert Roper's journalism appears in the New York Times, Los Angeles Times, National Geographic, Outside, and other publications. He won the 2002 Boardman-Tasker Prize for his book Fatal Mountaineer, and his most recent book, Now the Drum of War, was an Editor's Choice pick in the New York Times Book Review. He has also published several novels. He teaches at Johns Hopkins University and lives in Baltimore and California.
Praise For Nabokov in America: On the Road to Lolita…
"Fascinating. . . An evocative portrait of the novelist in the United States that's pungent with small, revealing Nabokovian details . . . Mr. Roper has succeeded in making a persuasive case for the essential role America played both in shaping Lolita and helping to configure the gyroscopic spin of Nabokov's later career." - Michiko Kakutani, The New York Times

"Roper chronicles the two decades that Nabokov lived in the United States (the writer had long dreamed of 'vulgar, far-flung America') and its powerful ramifications for Nabokov's work. Our reviewer, Daphne Mer­kin, called the book 'a scholarly romp that should engage admirers of Nabokov.'" - The New York Times Book Review

"Nabokov in America is rewarding on all counts, as biography, as photo album (there are many pictures of people, Western landscapes and motels) and as appreciative criticism. Not least, Roper even avoids the arch style so often adopted by critics faintly trying to emulate their inimitable subject." - Washington Post

"A learned, intense, and yet approachable book . . . Roper provides a powerful argument for the role America played in shaping one of the 20th century's literary giants." - Boston Globe

"Compelling and oddly comic, this tale of the Nabokovs and their life in America is fascinating reading . . . Roper has done a crisp and inspired job exploring this momentous literary figure and his place as a strange piece of 20th-century Americana." - starred review, Library Journal

"In this enjoyable new biography of his American years, [Roper] follows the author of Lolita and Pale Fire on a 20-year journey across America . . . A fresh look at Nabokov's writing and literary associations, including his contentious friendship with Edmund Wilson. It's a great read." - San Jose Mercury News

"Roper, rather stunningly, puts Nabokov, the Russian emigre, fully in America . . . One of the best of all biographical studies of the author." - Buffalo News, Editor's Choice

"In this fresh and engaging biography, biographer, novelist, and critic Roper traces the trajectory of his career, friendships, and family life, as well as his indefatigable passion for butterflies. Drawing judiciously on Brian Boyd's Vladimir Nabokov: The American Years (1991) and Stacy Schiff's biography of Vera Nabokov (1999), as well as the writer's correspondence, Roper illuminates such works as Pnin, Speak, Memory, and Pale Fire." - Kirkus Reviews

"Roper's biography is at once a general introduction and a dissertation on the Russian-born émigré's career and novels written in America . . . Through much original material (notes to publishers, letters to his wife, son Dimitri's memoir), Roper captures Nabokov's arrogance, his brilliance as a lecturer and translator, his passion and mastery of the Russian oeuvre, and his childlike happiness throughout his adult life . . . sure to satiate Nabokov fanatics." - Booklist

"The transposition of the highly Europeanized Russian Vladimir Nabokov to America, and his fruitful presence here, is a fascinating adventure that Robert Roper has the estimable chops to convey. I've read a lot of books about Nabokov but this is my favorite." - Thomas McGuane