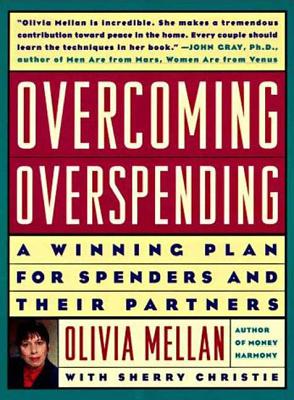 Overcoming Overspending: A Winning Plan for Spenders and Their Partners (Paperback)
A Winning Plan for Spenders and Their Partners
Walker & Company, 9780802774958, 160pp.
Publication Date: January 1, 1997
* Individual store prices may vary.
or
Not Currently Available for Direct Purchase
Description
Do you or someone you love have trouble saying "No" when the urge to spend strikes? Are you always living on the edge financially because your intention to save money is never as strong as your compulsion to spend it?

In "Overcoming Overspending," acclaimed money therapist Olivia Mellan offers a dynamic, compassionate program that will help spenders understand why they overspend and how they can stop, and will empower their partners or family to provide the support so critical to this process.
Mellan has been helping couples and individuals adjust their attitudes toward money for more than twenty years, and she presents here the positive exercises, dialogues, and other communication strategies that are the focus of her private practice and nationwide workshops:
self-assessment quizzes that pinpoint the deep-seated causes of overspending;
innovative exercises to help control the impulse to spend;
communication exercises and dialogues to help spenders and their partners heal a relationship distressed by money conflicts.

In addition, Mellan provides real-life stories of individuals and couples facing and triumphing over harmful spending habits.
If overspending is a central problem in your life, "Overcoming Overspending" is a win/win solution.
About the Author
Olivia Mellan is the bestselling author of several books on money-conflict resolution, including MONEY SHY TO MONEY SURE: A Woman's Road Map to Financial Well-Being (2001 hardcover), MONEY HARMONY: Resolving Money Conflicts in Your Life and Relationships (1994 hardcover; 1995 paperback) and OVERCOMING OVERSPENDING: A Winning Plan for Spenders and Their Partners (1995 hardcover; 1997 paperback), all published by Walker & Company. Mellan is a groundbreaking therapist in the field of money-conflict resolution; Money magazine calls her "the matriarch of a fast-growing list of couples money therapists." She gives seminars nationwide and has appeared regularly on national television including Oprah, Today, 20/20, and the PBS-TV series In the Prime. She is regularly quoted in national publications such as Psychology Today, Woman's Day, and Modern Maturity, among others. Her articles have appeared in numerous magazines and professional journals ranging from Working Woman to Money, and she writes a regular column called "The Psychology of Advice" for Dow Jones Investment Advisor. She lives in Washington, D.C.
Advertisement