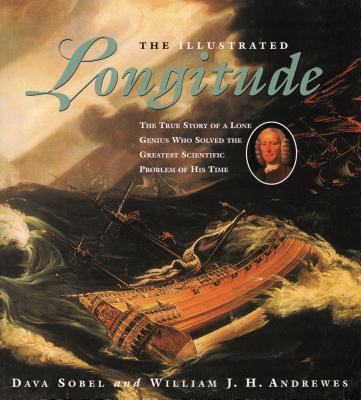 The Illustrated Longitude
The True Story of a Lone Genius Who Solved the Greatest Scientific Problem of His Time
Paperback

* Individual store prices may vary.
Other Editions of This Title:
Hardcover (10/1/1998)
Description
The Illustrated Longitude recounts in words and images the epic quest to solve the greatest scientific problem of the eighteenth and three prior centuries: determining how a captain could pinpoint his ship's location at sea. All too often throughout the ages of exploration, voyages ended in disaster when crew and cargo were either lost at sea or destroyed upon the rocks of an unexpected landfall. Thousands of lives and the fortunes of nations hung on a resolution to the longitude problem.
To encourage a solution, governments established prizes for anyone whose method or device proved successful. The largest reward of £20,000 - truly a king's ransom - was offered by Britain's Parliament in 1714. The scientific establishment - from Galileo to Sir Isaac Newton - had been certain that a celestial answer would be found and invested untold effort in this pursuit. By contrast, John Harrison imagined and built the unimaginable: a clock that told perfect time at sea, known today as the chronometer. Harrison's trials and tribulations during his forty-year quest to win the prize are the culmination of this remarkable story.
The Illustrated Longitude brings a new and important dimension to Dava Sobel's celebrated story. It contains the entire original narrative of Longitude, redesigned to accompany 183 images chosen by William Andrewes - from portraints of every important figure in the story to maps and diagrams, scientifc instruments, and John Harrison's remarkable sea clocks themselves. Andrewes's elegant captions and sidebars on scientific and historical events tell their own story of longitude.
Praise For The Illustrated Longitude: The True Story of a Lone Genius Who Solved the Greatest Scientific Problem of His Time…
"Two respected tellers of the longitude tale have teamed up! Sobel 's compelling prose is coupled with colorful and detailed illustrations provided by Andrewes. This edition responds to entreaties by readers who loved Sobel's Longitude but who wanted pictures to go with it." —Mercator's World
"Enormous care has been devoted to the illustrations and captions. Readers will finish this book considerably more educated about geography and navigation." —USA Today
"This new illustrated edition of Sobel's 1995 study of Harrison's remarkable instrument strikingly illuminates this largely unknown but crucial discovery." —Dallas Morning News
Bloomsbury Publishing, 9780802775931, 224pp.
Publication Date: October 1, 2003
About the Author
Dava Sobel (born June 15, 1947) is the author of Longitude, Galileo's Daughter, The Planets, and A More Perfect Heaven: How Copernicus Revolutionized the Cosmos. A former staff science reporter for The New York Times, she has also written for numerous magazines, including Discover, Harvard Magazine, Smithsonian, and The New Yorker.
Her most unforgettable assignment at the Times required her to live 25 days as a research subject in the chronophysiology lab at Montefiore Hospital, where the boarded-up windows and specially trained technicians kept her from knowing whether it was day outside or night.
Her work has won recognition from the National Science Board, which gave her its 2001 Individual Public Service Award "for fostering awareness of science and technology among broad segments of the general public." She also received the 2004 Harrison Medal from the Worshipful Company of Clockmakers in England and the 2008 Klumpke-Roberts Award from the Astronomical Society of the Pacific for "increasing the public understanding and appreciation of astronomy."
A 1964 graduate of the Bronx High School of Science, she has taught several seminars in science writing at the university level, and held a two-year residency at Smith College in fall 2013.
or
Not Currently Available for Direct Purchase