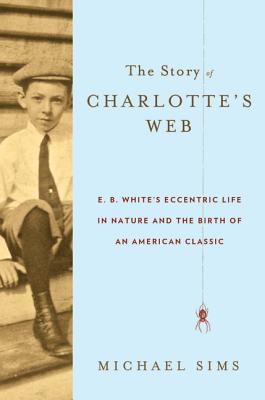 The Story of Charlotte's Web (Hardcover)
E. B. White's Eccentric Life in Nature and the Birth of an American Classic
Walker & Company, 9780802777546, 307pp.
Publication Date: June 14, 2011
Other Editions of This Title:
Paperback (5/29/2012)
Hardcover (7/1/2011)
* Individual store prices may vary.
Description
In The Story of Charlotte's Web Michael Sims's shows how E. B. White solved what critic Clifton Fadiman once called "the standing problem of the juvenile-fantasy writer: how to find, not another Alice, but another rabbit hole." By mining the raw ore of his childhood in Mount Vernon, New York, in the first decade of the twentieth century, White translated his own passions and contradictions, delights and fears, into a book that would be read the world over. Building on a visit to White's farm in Maine, viewing his handwritten first draft of Charlotte's Web, Michael Sims chronicles White's animal-rich childhood, his writing about urban nature for the New Yorker, his scientific research into how spiders spin webs and lay eggs, his friendship with his legendary editor, Ursula Nordstrom, the composition and publication of his masterpiece, and his ongoing quest to recapture an enchanted childhood.
About the Author
Michael Sims is the author of the acclaimed Apollo's Fire: A Day on Earth in Nature and Imagination, Adam's Navel: A Natural and Cultural History of the Human Form, and editor of the recent Dracula's Guest: A Connoisseur's Collection of Victorian Vampire Stories and The Penguin Book of Gaslight Crime He lives in western Pennsylvania.
Praise For The Story of Charlotte's Web: E. B. White's Eccentric Life in Nature and the Birth of an American Classic…
"Immensely charming"—Boston Globe
"A fine stylist, Mr. Sims portrays these scenes with a beauty and an economy of language that would make the co-author of
The Elements of Style
proud."—
Wall Street Journal
"Thorough...clear, direct and concise...a lovely and empathetic testament to E.B. White's vision."—
The Washington Post
"
The Story of Charlotte's Web
is a paean to a great work and a window into the uniquely gifted man who created it."—
Christian Science Monitor
"Sims offers an affectionate homage to E.B. White"—
Entertainment Weekly
"An engaging, distilled, highly focused biography of White"—
Salon
"Built on revealing glimpses"—
USA Today
"A really lovely book"—
Science Friday
"Unpacks the appeal of Charlotte's Web"—
Smithsonian
"Goes back to Zuckerman's farm"—
Vanity Fair
"A pocket biography"—
Chicago Sun-Times
"Beautifully written and researched, the book is well worth anyone's time"—
Monica Edinger, Huffington Post
 "An affectionate biography…Packed with the same kind of sensory detail its subject reveled in, this account is an honorable addition to the literature of letters."—
Kirkus Reviews
Coverage from NPR
or
Not Currently Available for Direct Purchase