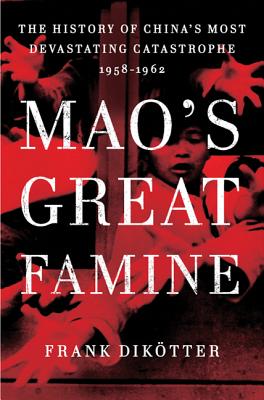 Mao's Great Famine: The History of China's Most Devastating Catastrophe, 1958-1962 (Hardcover)
The History of China's Most Devastating Catastrophe, 1958-1962
Walker & Company, 9780802777683, 420pp.
Publication Date: October 1, 2010
* Individual store prices may vary.
or
Not Currently Available for Direct Purchase
Description
"Between 1958 and 1962, China descended into hell. Mao Zedong threw his country into a frenzy with the Great Leap Forward, an attempt to catch up to and overtake Britain in less than 15 years The experiment ended in the greatest catastrophe the country had ever known, destroying tens of millions of lives." So opens Frank Dikotter's riveting, magnificently detailed chronicle of an era in Chinese history much speculated about but never before fully documented because access to Communist Party archives has long been restricted to all but the most trusted historians. A new archive law has opened up thousands of central and provincial documents that "fundamentally change the way one can study the Maoist era." Dikotter makes clear, as nobody has before, that far from being the program that would lift the country among the world's superpowers and prove the power of Communism, as Mao imagined, the Great Leap Forward transformed the country in the other direction. It became the site not only of "one of the most deadly mass killings of human history,"--at least 45 million people were worked, starved, or beaten to death--but also of "the greatest demolition of real estate in human history," as up to one-third of all housing was turned into rubble). The experiment was a catastrophe for the natural world as well, as the land was savaged in the maniacal pursuit of steel and other industrial accomplishments. In a powerful meshing of exhaustive research in Chinese archives and narrative drive, Dikotter for the first time links up what happened in the corridors of power-the vicious backstabbing and bullying tactics that took place among party leaders-with the everyday experiences of ordinary people, giving voice to the dead and disenfranchised. His magisterial account recasts the history of the People's Republic of China.
About the Author
Frank Dikotter is Chair Professor of Humanities at the University of Hong Kong and Professor of the Modern History of China at the School of Oriental and African Studies, University of London. He is a key proponent of studying the history of China in global perspective, and has published a series of innovative books, from his classic The Discourse of Race in Modern China (Univ. Stanford Press 1992) to the controversial Narcotic Culture: A History of Drugs in China (Univ. Chicago Press 2004). He lives in Hong Kong.
Praise For Mao's Great Famine: The History of China's Most Devastating Catastrophe, 1958-1962…
"The most authoritative and comprehensive study of the biggest and most lethal famine in history.  A must-read."—Jung Chang, author of Mao: The Unknown Story
"Mao's Great Famine is a gripping and masterful portrait of the brutal court of Mao, based on new research but also written with great narrative verve, that tells the gripping story of the manmade famine that killed 45 million people, from the dictator and his henchmen down to the villages of rural China."—Simon Sebag Montefiore, author of Stalin: The Court of the Red Tsar
"Despite Beijing's new openness over the past few decades, there are still whole parts of contemporary Chinese history that Party officials have managed to keep largely hidden from the scrutiny of the outside world. The 1959-60 Great Leap Forward, Mao's epic effort of revolutionary will power to force China's peasantry into socialism through the rapid communization of agriculture, is such a period. However, by managing to gain access to unplumbed regional Chinese archives and other new materials, Frank Dikotter has helped throw back the shroud on this period of monumental, man-made catastrophe. With both narrative vigor and scholarly rigor, Mao's Great Famine documents how Mao Zedong's impetuosity was not only the demise of many of his far more politically level-headed comrades-in-arms, but also of tens of millions of ordinary Chinese who perished unnecessarily in this spasm of revolutionary extremism."—Orville Schell, Author and Director of the Center on US-China relations at the Asia Society
"A direct, hard-hitting study of China's Great Leap Forward in light of newly opened archival material… A horrifically eye-opening work of a dark period of Chinese history that desperately cries out for further examination."—Kirkus, starred review
"This book is a grim, mesmerizing, astonishing account of those terrible years, when officials reported record-breaking harvests even as ordinary folk scavenged meat from the corpses of their neighbors... Mao's reputation as "a great revolutionary" who "made some mistakes" will not survive the publication of this book. He was, as Frank Dikötter makes devastatingly clear, one of the great monsters of world history. China has yet to come to terms with his legacy."—History Book Club

"[A]n important work illustrating the dangers of one individual holding power to force millions to fulfil his personal fantasies."—Booklist

"Aided by newly released historical documents detailing the savage infighting and backstabbing of those in power and the extent of the nationwide damage, Dikötter has produced one of the best single-volume resources on the topic. Although a scholarly, heavily footnoted work, its flowing narrative—effectively a cautionary tale on the destructive powers of misguided ambition and blind hubris—reads well. Recommended for specialists as well as interested general readers."—Library Journal

"[A]n intensively researched litany of suffering, packed with statistics, grim anecdotes, and self-serving explanations by leaders responsible for the devastation."—Publishers Weekly

"After Mao's Great Famine, Frank Dikotter's chronicle of how that regime killed at least 45 million people in what he calls the greatest man-made famine the world has seen, no one will have any excuses for modish Maoism... Such was the efficiency of Maoist terror that no photos of the famine are known to exist, Dikotter says. Yet the facts are enough, and nothing you read will be so harrowing. The inhumanity of man, ideological man especially, scorches every page... a shattering book... Dikotter has done a service to history and, when they are allowed to read it, to the Chinese themselves."—Bloomberg

"Brave and brilliant."—The Scotland on Sunday

"Gripping... Prof Dikotter's painstaking analysis of the archives shows Mao's regime resulted in the greatest "man-made famine" the world has ever seen."—The Daily and Sunday Express

"In terms of Mao's reputation this book leaves the Chairman for dead, as a monster in the same league as Hitler and Stalin... the best and last word on Mao's greatest horror... Frank Dikötter has put everyone in the field of Chinese studies in his debt, together with anyone else interested in the real China. Sooner or later the Chinese, too, will praise his name."—The Literary Review

"Frank Dikötter has written a masterly book that should be read not just by anybody interested in modern Chinese history but also by anybody concerned with the way in which a simple idea propagated by an autocratic national leader can lead a country to disaster, in this case to a degree that beggars the imagination... The book is extremely clearly written, avoiding the melodrama that infused some other recent broadbrush accounts of Mao's sins... Dikötter's superb book pulls another brick from the wall."—The Observer

"A work of brilliant scholarship finally reveals the full extent of the horrors visited on the Chinese people by Mao during the Great Leap Forward... Meticulous.. It is hard to exaggerate the achievement of this book in proving that Mao caused the famine."—The Sunday Times

"Mao's Great Famine traces the story of how Mao Zedong's drive for absurd targets for farm and industrial production and the reluctance of anyone to challenge him created the conditions for the countryside to be emptied of grain and millions of farmers left to starve."—South China Morning Post

"[U]ses newly opened archives and original interviews to detail the calamity in calm, if unavoidably grisly, detail."—The New Yorker

"[A] seminal and must-read book."—
Sify.com
"For those Chinese students who want a reliable and readable account of what really happened, my standard advice has been to read
Hungry Ghosts
, by the British journalist Jasper Becker.4 But Becker's work has now been largely superseded by the pathbreaking
Mao's Great Famine
by the social historian Frank Dikötter… This is a first-class piece of research…. [Mao] will be remembered as the ruler who initiated and presided over the worst man-made human catastrophe ever. His place in Chinese history is assured. Dikötter's book will have done much to put him there."—
New York Review of Books
"Dikotter is on the way to becoming a sort of A.J.P. Taylor of modern Chinese history... a magnificent book that will set new scholarly standards."—The Taipei Times
"As Frank Dikotter's Mao's Great Famine reveals, the Chairman became a demented megalomaniac who laughed his way through the deaths of more than 45 million Chinese."—The Times of India
"This emphasis on how party violence exacerbated the death toll sets Dikötter's book apart from other studies of the Great Leap Forward … Books like his may help force the atrocities, and the debate, back to the surface."—
Newsweek
"Dikötter tells the story with vivid new details…His relentlessly clinical, morally intense account of filth, disease, and hunger is both fascinating and numbing."—
Foreign Affairs
"In
Mao's Great Famine
, historian Frank Dikötter assembles a treasure chest of these historic facts, but more important, he strokes them together into a masterly and memorable story…ranks among the best documentation available on the Great Leap Forward."—
Christian Science Monitor
"Haunting… Dikötter succeeds in his dark task of cataloguing the awesome scale of [Mao's] crime."—
New Republic
"Groundbreaking… Dikötter found new evidence of the massive and spectacular violence."—
Minneapolis Star Tribune
"Frank Dikötter's thoroughly researched book will help ensure that the country's present-day insecurities do not allow this dark past to be forgotten entirely… His findings are astounding…"Mao's Great Famine" makes for very grim reading in parts. But the sheer volume of previously hidden facts allows a much clearer and more damning picture to emerge, making a critical contribution to Chinese history."—
Wall Street Journal
"A riveting and heartbreaking and illuminating read by an expert in the field…Mao's madness comes through on every page.  A MUST READ."—
Travel Watch
Advertisement