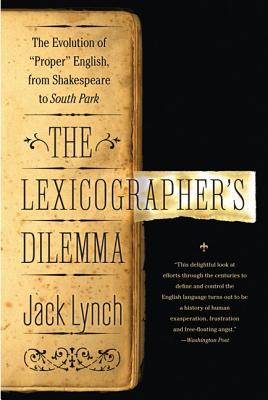 The Lexicographer's Dilemma: The Evolution of "Proper" English, from Shakespeare to South Park (Paperback)
The Evolution of "Proper" English, from Shakespeare to South Park
Walker & Company, 9780802777690, 326pp.
Publication Date: November 3, 2010
* Individual store prices may vary.
or
Not Currently Available for Direct Purchase
Description
In its long history, the English language has had many lawmakers-those who have tried to regulate or otherwise organize the way we speak. "The Lexicographer's Dilemma" poses a pair of questions-what does proper English mean, and who gets to say what's right? Our ideas of correct or proper English have a history, and today's debates over the state of the language-whether about Ebonics in schools, the unique use of language in a South Park episode, or split infinitives in the "Times"-make sense only in historical context. As historian Jack Lynch has discovered, every rule has a human history, and the characters who populate his narrative are as interesting for their obsessions as for their erudition. Charting the evolution of English with wit and intelligence, he provides a rich historical perspective that makes us appreciate a new the hard-won standards we now enjoy.
About the Author
Jack Lynch is a professor of English at Rutgers University and a Johnson scholar, having studied the great lexicographer for nearly a decade. In addition to his books on Johnson and on Elizabethan England, he has written journal articles and scholarly reviews, and hosts a Web site devoted to these topics at http: //andromeda. rutgers.edu/ jlynch/18th/. He is the author of Becoming Shakespeare and Samuel Johnson's Insults and the editor of Samuel Johnson's Dictionary. He lives in Lawrenceville, NJ.
Praise For The Lexicographer's Dilemma: The Evolution of "Proper" English, from Shakespeare to South Park…
"Lynch's highly readable book will appeal to all users of the English language, from word buffs to scholars alike."—Library Journal
"Lynch recognizes that grace, clarity, and precision of expression are paramount. His many well-chosen and entertaining examples support his conclusion that prescriptions and pedantry will always give way to change, and that we should stop fretting, relax, and embrace it."—Boston Globe
"In his sprightly new history of the notion of 'proper' English … Lynch [asks] us all to calm down, please, and recognize that 'proper' English is a recent and changeable institution."—Salon
Advertisement