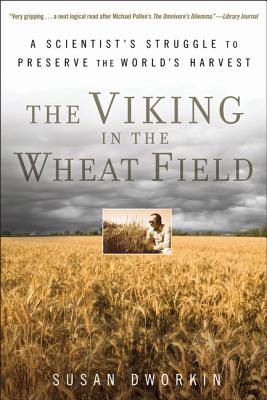 The Viking in the Wheat Field (Paperback)
A Scientist's Struggle to Preserve the World's Harvest
Walker & Company, 9780802778109, 256pp.
Publication Date: December 21, 2010
Other Editions of This Title:
Hardcover (11/24/2009)
* Individual store prices may vary.
Description
For thirty years, Danish plant scientist Bent Skovmand served as adviser to dozens of countries and hunted for seeds with genes to resist disease and such environmental stresses as drought, flooding, and global warming. In an era when multinational corporations often jealously guarded patents on plant breeding, Skovmand fought to keep his seed bank a free, open scientific exchange for breeders and farmers everywhere.
By telling the story of Skovmand and his colleagues, "The Viking in the Wheat Field" sheds welcome light on an agricultural sector--plant genetic resources--on which our food supply is crucially dependent.
About the Author
Susan Dworkin has written several biographies, including The Nazi Officer's Wife (with Edith Hahn Beer), and her articles have appeared in numerous magazines.
Praise For The Viking in the Wheat Field: A Scientist's Struggle to Preserve the World's Harvest…
"In vivid language, Dworkin presents Skovmand's legacy as ample reason for a new generation of genetic researchers to take the cause."—Kirkus Reviews
"An eye-opening look into the little-known world of gene banks and crop breeding, and a poignant reminder that the real guardians of our food security are not armies or transnational corporations, but a handful of tireless scientists who have labored for decades to keep us one step ahead of famine."— Rowan Jacobsen, author of Fruitless Fall and The Living Shore
"Susan Dworkin has found a delightful way to tell the alarming story of the fragility of the global wheat crop. She leads us expertly and enthusiastically into Bent Skovmand's strange, infrequently penetrated domain of plant breeding and international seed banks, a world in which unsung scientists search and save exotic plant germplasm to protect the staffs of life against pests, plagues and corporate raiders. As the Viking himself warns in Dworkin's book, 'If the seeds disappear, so could your food. So could you.'"—Peter Pringle, author of Food Inc., Mendel to Monsanto—The Promises and Perils of the Biotech Harvest, and The Murder of Nikolai Vavilov
"Thanks to Bent Skovmand and scientists of his ilk, most of us take it for granted that there will be food on table when needed.  The Viking in the Wheat Field is about the importance of protecting nature and its biodiversity, and improving the seeds available to us, so that 3 billion more people may eat 40 years from now."—Per Pinstrup-Andersen, H.E. Babcock Professor of Food, Nutrition and Public Policy at Cornell University
or
Not Currently Available for Direct Purchase