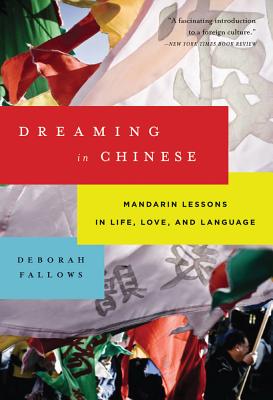 Dreaming in Chinese
Mandarin Lessons In Life, Love, And Language
Paperback

* Individual store prices may vary.
Other Editions of This Title:
MP3 CD (11/18/2014)
Compact Disc (11/18/2014)
Description
Deborah Fallows has spent a lot of her life learning languages and traveling around the world. But nothing prepared her for the surprises of learning Mandarin, China's most common language, or the intensity of living in Shanghai and Beijing. Over time, she realized that her struggles and triumphs in studying learning the language of her adopted home provided small clues to deciphering behavior and habits of its people, and its culture's conundrums. As her skill with Mandarin increased, bits of the language - a word, a phrase, an oddity of grammar - became windows into understanding romance, humor, protocol, relationships, and the overflowing humanity of modern China.
Fallows learned, for example, that the abrupt, blunt way of speaking which Chinese people sometimes use isn't rudeness, but is, in fact a way to acknowledge and honor the closeness between two friends. She learned that English speakers' trouble with hearing or saying tones-the variations in inflection that can change a word's meaning-is matched by Chinese speakers' inability not to hear tones, or to even take a guess at understanding what might have been meant when foreigners misuse them.
Dreaming in Chinese is the story of what Deborah Fallows discovered about the Chinese language, and how that helped her make sense of what had at first seemed like the chaos and contradiction of everyday life in China.
Praise For Dreaming in Chinese: Mandarin Lessons In Life, Love, And Language…
"Dreaming in Chinese is chatty and colloquial, with helpful photographs and drawings, as well as a pronunciation guide. The eager student will learn a fair bit about the history of the language and how its array of characters and tones were systematized, all the while gathering insights into the country's customs and culture. Rather than draw sweeping conclusions Fallows sticks to her own experiences and observations, which makes her book all the more valuable. China hands will have many moments of recognition. For others, Dreaming in Chinese will be a fascinating introduction to a foreign culture." —Lesley Downer, New York Times Book Review
"You don't have to know Mandarin to be captivated by Deborah Fallows's Dreaming in Chinese…. Forget Berlitz – that just teaches words. Deborah Fallows shows us that the cultural implications of those words teach us about each other." —Sara Nelson, O: The Oprah Magazine
"Fallows has a good ear for aspect, the way of stressing certain words and syllables to change or add layers of meaning to a simple word or phrase. She veers to the gentle, seeing the generosity behind brusque gestures, the intimacy and friendship behind rudeness and the priorities that language reveals. Playfulness, respect, affection and the virtues of solidarity with the common people -- a different traveler might miss all these but not Fallows." —Susan Salter Reynolds, Los Angeles Times
"While it isn't necessary to know the language of a foreign country when you live abroad, studying that language can infinitely ease and illuminate your entrée there. Deborah Fallows underscores this lesson again and again in this compelling account of her own trials and triumphs with studying Mandarin while residing in Shanghai and Beijing. A linguist by training, Fallows shows how even small advancements such as mastering a single word or phrase can unlock grammatical and cultural secrets…. Over the course of her three-year immersion, her ever-deepening insights immeasurably enrich her engagement with China--and ours as well." —Don George, National Geographic Traveler
"Reading Dreaming in Chinese, we follow an intelligent, analytical, sympathetic -- and humorous -- guide who knows it's the journey, not the destination, that counts." —Patricia Hagen, Star Tribune (Minneapolis)
"For anyone with a connection to China (and particularly for anyone who has attempted Mandarin) her book is a gift: it's all the thoughts that escaped you in your travels and studies. It's as revealing of the way a Western, English-speaking mindset perceives China as it is of what "makes a billion people tick." For readers hoping to truly journey in China (rather than just plant your feet firmly on the Great Wall), Dreaming in Chinese is mandatory reading." —KJ Dell'Antonia, Double X
"Thinking of learning Mandarin? Read this…. For beginners, Dreaming in Chinese is an easy entry into an ancient land." —Tish Wells, McClatchy Newspapers
"Fallows manages to take the relatively dry subject of translation and create a warm and witty memoir…. [taking] readers on a ride through Chinese culture that is as entertaining as it is informative." —Colleen Mondor, Booklist
"Any traveler who shudders at the prospect of deciphering Chinese should be armed with a copy of this book." —Evan Osnos, former Chicago Tribune Beijing bureau chief, and staff writer at the New Yorker
"China seems an impossible mountain to climb, yet Deborah Fallows takes a less traveled path, climbing the mountain from the inside. She recounts her journey with a perfect balance of wise observation and wit. To follow her climb yields startling insights about the Chinese people and culture, the kind of insights lugubrious China essays rarely yield. Dreaming in Chinese is both vital and a joy to read." —Ken Auletta
"Dreaming in Chinese is a little gem, sparkling with wonderful tales about China, its language and its people." —Rob Gifford, former NPR Beijing correspondent, and author of China Road
"In Dreaming in Chinese, Deborah Fallows opens up a window onto Chinese urban life through its notoriously difficult language. A charming and insightful book." —Susan Shirk, author of China: Fragile Superpower
"While all too many books on China try to make sense of this infinitely provocative country from the top down, Deborah Fallows looks at it from the bottom up, trying to figure out what makes the place work through personal encounters, the language and everyday occurrences. She has written a refreshing and insightful book." —Orville Schell, director of the Asia Society's Center on U.S.-China Relations
"Dreaming in Chinese is original, entertaining, gracefully written and provides important insights into life and culture in contemporary China. Deborah Fallows is a gifted linguist who helps her readers understand the complexities of the Chinese language. But she does much more. She is an astute observer and through simple yet compelling anecdotes she helps her readers experience everyday life in China. This is a terrific book for anyone who wants to improve their understanding of this extraordinary country." —Laura D. Tyson, Professor of Global Management, Haas School of Business, University of California at Berkeley
"Deborah Fallows' sparkling memoir of her three years in China makes us feel we are on the streets with her in Shanghai and Beijing--haggling with merchants and cops and learning to be rude and friendly, Chinese-style. The joy of this book is its sense of humor and adventure: Deborah decided to live outside the expatriate ghetto: learning the language, drinking the water, living the real Chinese life like a laobaixing (ordinary person).Whether it's learning not to say 'please,' or understanding why Chinese hate the number '4' or ordering take-away at a Chinese Taco Bell, Deb jumps in head-first and makes us laugh at her often comical embrace of this culture. I can't think of a better book for someone who wants to understand the lovable, infuriating and hilarious country that is China." —David Ignatius, columnist for the Washington Post and author of Body of Lies
Bloomsbury Publishing, 9780802779144, 208pp.
Publication Date: September 20, 2011
About the Author
Deborah Fallows has lived in Shanghai and Beijing and traveled throughout China for three years with her husband, writer James Fallows. She is a Harvard graduate and has a PhD in Linguistics, and is author of A Mother's Work (Houghton Mifflin). She most recently worked in research and polling for the Pew Internet Project and in data architecture for Oxygen Media. When in the US, she and her husband live in Washington, DC. They have two sons and two daughters-in-law.
or
Not Currently Available for Direct Purchase