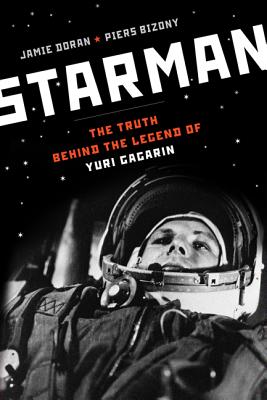 Starman: The Truth Behind the Legend of Yuri Gagarin (Paperback)
The Truth Behind the Legend of Yuri Gagarin
Walker & Company, 9780802779502, 252pp.
Publication Date: May 1, 2011
* Individual store prices may vary.
or
Not Currently Available for Direct Purchase
Description
On April 12, 1961, Yuri Gagarin became the first person in history to leave the Earth's atmosphere and venture into space. His flight aboard a Russian Vostok rocket lasted only 108 minutes, but at the end of it he had become the most famous man in the world. Back on the ground, his smiling face captured the hearts of millions around the globe. Film stars, politicians and pop stars from Europe to Japan, India to the United States vied with each other to shake his hand.
Despite this immense fame, almost nothing is known about Gagarin or the exceptional people behind his dramatic space flight. Starman tells for the first time Gagarin's personal odyssey from peasant to international icon, his subsequent decline as his personal life began to disintegrate under the pressures of fame, and his final disillusionment with the Russian state. President Kennedy's quest to put an American on the Moon was a direct reaction to Gagarin's achievement--yet before that successful moonshot occurred, Gagarin himself was dead, aged just thirty-four, killed in a mysterious air crash. Publicly the Soviet hierarchy mourned; privately their sighs of relief were almost audible, and the KGB report into his death remains secret.
Entwined with Gagarin's history is that of the breathtaking and highly secretive Russian space program - its technological daring, its triumphs and disasters. In a gripping account, Jamie Doran and Piers Bizony reveal the astonishing world behind the scenes of the first great space spectacular, and how Gagarin's flight came frighteningly close to destruction.
About the Author
Piers Bizony is author of the award-winning 2001: Filming the Future a detailed account of the making of Stanley Kubrick's film, The Rivers of Mars: Searching for the Cosmic Origins of Life and Island in the Sky: Building the International Space Station. He also lectures and organizes exhibitions on space-related subjects.Jamie Doran of Atlantic Celtic Films is an international award-winning documentary producer. After seven years at BBC Television, he went into independent production, where many of his films have concentrated on lifting the lid of secrecy within the former Soviet Union.
Praise For Starman: The Truth Behind the Legend of Yuri Gagarin…
"An extraordinary and accessible examination of this enormous contribution to space exploration, supported by riveting first-hand anecdotes. Essential to any air and space collection." – Library Journal (starred)
"Well-written, engaging, and brow-raising in many ways."—
SpaceCoalition.com
"This excellent narrative will keep you enthralled and give you new perspectives on an old name we're all familiar with." –
Astronomy Magazine online
"This extraordinarily intimate account of the 1967 death of a Russian cosmonaut appears in a new book,
Starman,
by Jamie Doran and Piers Bizony, to be published next month. The authors base their narrative principally on revelations from a KGB officer, Venymin Ivanovich Russayev, and previous reporting by Yaroslav Golovanov in
Pravda
. This version — if it's true — is beyond shocking."—
Robert Krulwich, in his post on NPR.org
Advertisement