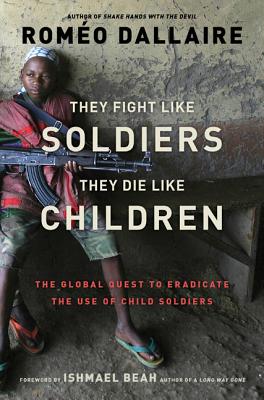 They Fight Like Soldiers, They Die Like Children: The Global Quest to Eradicate the Use of Child Soldiers (Hardcover)
The Global Quest to Eradicate the Use of Child Soldiers
Walker & Company, 9780802779564, 307pp.
Publication Date: June 1, 2011
* Individual store prices may vary.
or
Not Currently Available for Direct Purchase
Description
""It is my hope that through the pages of this remarkable book, you will discover groundbreaking thoughts on building partnerships and networks to enhance the global movement to end child soldiering; you will gain new and holistic insights on what constitutes a child soldier; you will learn more about girl soldiers, who have not been fully considered in the discussion of this issue; you will discover methods on how to influence national policies and the training of security forces; and you will find practical steps that will foster better coordination between security forces and humanitarian efforts."-"Ishmael Beah
As the leader of the ill-fated United Nations peacekeeping force in Rwanda, Lieutenant-General Romeo Dallaire came face-to-face with the horrifying reality of child soldiers during the genocide of 1994. Since then the incidence of child soldiers has proliferated in conflicts around the world: they are cheap, plentiful, expendable, with an incredible capacity, once drugged and brainwashed, for both loyalty and barbarism.
The dilemma of the adult soldier who faces them is poignantly expressed in this book's title: when children are shooting at you, they are soldiers, but as soon as they are wounded or killed, they are children once again. Believing that not one of us should tolerate a child being used in this fashion, Dallaire has made it his mission to end the use of child soldiers. Where Ishmael Beah's "A Long Way Gone "gave us wrenching testimony of the devastating experience of being a child soldier, Dallaire offers intellectually daring and enlightened approaches to the child soldier phenomenon, and insightful, empowering solutions to eradicate it.
About the Author
Lieutenant-General The Honorable Romeo Dallaire (Retired) served thirty-five years with the Canadian Armed Forces, and now sits in the Canadian Senate. He founded and leads the Child Soldiers Initiative in association with the Centre for Foreign Policy Studies at Dalhousie University. He has received numerous honors and awards, including induction as an Officer of the Order of Canada and as an Officer of the Legion of Merit of the United States, the highest military decoration available to foreigners. His book, Shake Hands with the Devil: The Failure of Humanity in Rwanda, won the Governor General's Literary Award in Canada, has been acclaimed around the world, and has been turned into an Emmy Award-winning documentary as well as a feature film.
Praise For They Fight Like Soldiers, They Die Like Children: The Global Quest to Eradicate the Use of Child Soldiers…
"[An] impassioned call for action…. Dallaire's troubling book, written out of evident frustration over the world's failure to act…. [is] a blunt, angry cry: 'What has humanity created?'"—Kirkus Reviews
"Drawing on 15 years' experience and research, Dallaire explores the wrenching dilemma consisting of the reluctance to shoot children though they are armed and the guilt and horror attendant on killing them."
—Vanessa Bush, Booklist
Advertisement