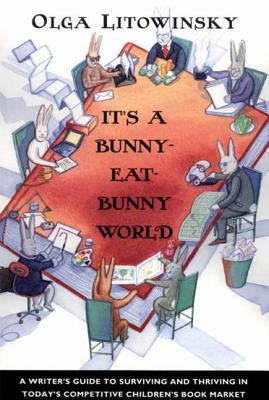 It's a Bunny-Eat-Bunny World (Hardcover)
A Writer's Guide to Surviving and Thriving in Today's Competitive Children's Book Market
Walker Books, 9780802786371, 288pp.
Publication Date: March 1, 2001
* Individual store prices may vary.
Description
The business of publishing books for children has changed monumentally over the last decade. Large companies have merged and grown, while well-established imprints vanished one after another. In this tough climate, it's becoming harder and harder to break into the industry. Olga Litowinsky has interviewed to children's book editors, agents, and experts in the field and shares their up-to-the-minute advice about what editors are looking for today. Armed with this insider information, aspiring writers will be able to distinguish themselves and succeed in today's highly competitive marketplace.
It's a Bunny-Eat-Bunny World gives invaluable guidance on how to write and submit a manuscript, revealing what is most important from an editor's point of view. Expanding on her previous book, Writing and Publishing Books for Children in the 1990s, Olga Litowinsky includes tips on how an author can edit, market, and publicize his or her own work, with new information on how to deal with agents, editors, contracts, and writers' rights. This no-nonsense guide is the definitive resource for all children's book writers–novice and veteran alike.
About the Author
Olga Litowinsky has worked on both sides of the editor desk; as a former executive editor of children's books at Simon & Schuster, and as an author of eight books for children and one for adults, Writing and Publishing books for Children in the 1990s, also published by Walker & Company. She divides her time between Brooklyn, New York, and Martha's Vineyard, in Massachusetts.
or
Not Currently Available for Direct Purchase