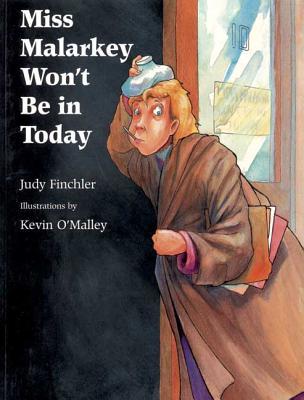 Miss Malarkey Won't Be in Today (Hardcover)
Walker Childrens, 9780802786524, 32pp.
Publication Date: September 1, 1998
* Individual store prices may vary.
or
Not Currently Available for Direct Purchase
Description
Miss Malarkey is back ("Miss Malarkey Doesn't Live in Room 10") and this time SHE is the one with the over-active imagination Stuck at home, delirious and helplessly sick, Miss Malarkey can't help but worry about which substitute Principal Wiggins has called in. Is it that ex-drill sergeant, Mr. Doberman? Or that timid push-over, Mr. Lemonjello? Her imagination starts running wild, conjuring up all sorts of outrageous and chaotic scenarios. When her anxious speculations get the best of her, Miss Malarkey rushes off to school to stop the madness; but, she is in for a delightful shock when she reaches Room 10.
Judy Finchler and Kevin O'Malley have joined forces once again in creating an uproariously comical story of one teacher's anxious speculations over her students' day with a substitute teacher.
About the Author
Judy Finchler is the author of Miss Malarkey Doesn't Live in Room 10. She is an elementary school teacher and librarian from Parsippany, New Jersey. Kevin O'Malley is the illustrator of several children's books from Walker & Company, including Miss Malarkey Doesn't Live in Room 10. He lives in Baltimore, MD with his wife and sons.
Advertisement