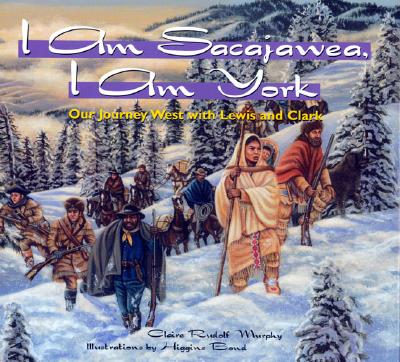 I Am Sacajawea, I Am York (Hardcover)
Our Journey West with Lewis and Clark
Walker & Company, 9780802789211, 32pp.
Publication Date: January 1, 2005
* Individual store prices may vary.
Description
When Lewis and Clark's Corps of Discovery set out in the spring of 1804, they had chosen to go on an unprecedented, extremely dangerous journey. It would be the adventure of a lifetime.
Unlike others in the group, two key members did not choose to join the hazardous expedition: York, Clark's slave, and Sacajawea, considered to be the property of Charbonneau, the expedition's translator.
The unique knowledge and skills Sacajawea and York had were essential to the success of the trip. The dual stories of these two outsiders, who earned their way into the inner core of the Lewis and Clark Expedition, shed new light on one of the most exciting and important undertakings in American history.
About the Author
Claire Rudolf Murphy is the author of many books, including Children of the Gold Rush, which School Library Journal lauded as a "positive, satisfying immersion into a little-known subject."After living in Alaska for twenty-four years, Claire returned to her hometown of Spokane, Washington, with her husband and two children. She felt drawn to Sacajawea's and York's stories when she started hiking around the region and realized that she had grown up only 105 miles away from the Lewis and Clark trail and about 400 miles from where Sacajawea and York voted on where to build their winter fort.Higgins Bond illustrated The Seven Seas: Exploring the World Ocean for Walker & Company. School Library Journal commented that her "realistic ... vivid [illustrations in The Seven Seas] envelop and transport readers to these waters."Higgins earned her BFA from the Memphis College of Art. She has illustrated numerous children's books and created commemorative stamps for the U.S. Postal Service. She lives in Nashville, Tennessee.
or
Not Currently Available for Direct Purchase