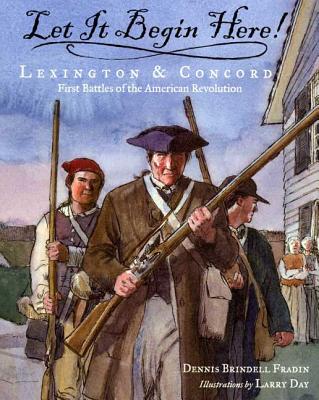 Let It Begin Here!: Lexington & Concord: First Battles of the American Revolution (Hardcover)
Lexington & Concord: First Battles of the American Revolution
Walker & Company, 9780802789457, 1pp.
Publication Date: April 1, 2005
* Individual store prices may vary.
or
Not Currently Available for Direct Purchase
Description
April 18, 1775
9:30 P.M. Paul Revere learns that the British army is marching to Lexington and Concord to arrest rebel leaders and destroy American military supplies.
11:00 P.M. Revere begins his famous midnight ride to warn his fellow patriots about the British plans.
April 19, 1775
12:00 A.M. Revere reaches Lexington and warns rebel leaders Samuel Adams and John Hancock that the British are coming. They escape and rouse the town's militia.
1:00 A.M. Revere is captured by the British, but a fellow patriot continues on to warn the sleeping village of Concord.
5:00 A.M. An advance lookout for the Lexington militia spots the approaching British army and shouts a warning.
5:20 A.M. Most of the 70 Lexington militiamen, outgunned by the military might of the 250 British regulars, decide to back down. But a few men stand their ground, including Jonas Parker, a grandfather who has vowed never to flee the British.
Suddenly, a shot rings out.
About the Author
Dennis Brindell Fradin is the author of The Signers: The 56 Stories Behind the Declaration of Independence, which won numerous awards, including being named an ALA Notable, an American Booksellers for Children's Choice, and an International Reading Association Teachers' Choice. The New York Times Book Review called it "fascinating for young historians and just about anyone else." Dennis lives in Evanston, Illinois, with his wife, Judith. Larry Day has illustrated several picture books while working in the advertising industry, creating storyboards for such clients as McDonalds and the U.S. Army. His illustrations have appeared in the Chicago Tribune Magazine and in several exhibits, including his own shows. Larry lives in Downers Grove, Illinois, with his wife, Melanie, and their two sons, Andrew and Peter.
Advertisement