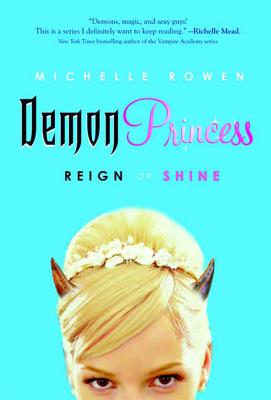 Demon Princess (Paperback)
Reign or Shine
Walker & Company, 9780802795342, 284pp.
Publication Date: October 1, 2009
Other Editions of This Title:
Hardcover (9/29/2009)
* Individual store prices may vary.
Description
Nikki Donovan has enough trouble fitting in at her new school without the weird guy who keeps following her around. And when he approaches her, claiming to be sent by her long-lost father, Nikki finds out the truth: the father she never knew is the demon king of the Shadowlands- the realm between our world and the Underworld-and now that he's dying, she is his sole heir to the throne. Maybe it's because she's in shock, or maybe it's because the messenger, Michael, is actually kind of cute, but Nikki follows him into the Shadowlands. There, she learns about her half-demon powers, about the potential war between the Shadowlands and the Underworld, and that her father wants her to assume the throne-forever. Not to mention that her growing crush on Michael is completely forbidden-he's a Shadow creature and destined to be her slave. What's a teenage demon princess to do?
About the Author
Michelle Rowen is the bestselling author of the Immortality Bites series, including Bitten & Smitten and Fanged & Fabulous. She lives in Ontario. www.michellerowen.com
Praise For Demon Princess: Reign or Shine…
"Sixteen-year-old Nikki's life is straight out of a fairy tale, but she's no damsel in distress. Just after her birthday, Nikki learns from an attractive stranger named Michael that she is heir to the throne of the Shadowlands, which separate the human realm from the Underworld. Nikki's father, the Demon King, is dying, and she's got very little time to decide if she'll stay in the Shadowlands forever or live as a normal teenager. Her aunt Elizabeth is ready to take over the throne and will stop at nothing to block Nikki's ascension to power. Nikki knows what everyone else wants her to do, but she ultimately wants to make her own decisions about her future, something every teenager will understand. Although she doesn't see herself as a superhero, her will to save her threatened loved ones and take control of her own life is nothing short of heroic. The doomed love story between Nikki and Michael combines with action and mystery to entertain any reader who holds a special place in her heart for strong princesses." —Kirkus Reviews
"Sixteen-year-old Nikki faces yet another new school and yet another (probably unhappy) marriage for her mother. Still, she is hopeful about the changes until she meets an attractive guy who appears to be stalking her. She is thoroughly spooked after he tells her that she is, in fact, a demon princess whose father, King of the Shadowlands, is ill and wishes to see her. Still, she agrees to enter the dimension that separates the human realm from the Underworld. Rowen walks an intriguing tightrope, moving Nikki between scenes of realism and fairy tale–horror within a single school day or high-school dance. And she crafts intriguing characters, including Nikki's loving father, who morphs into a leathery horned demon with glowing red eyes at the slightest provocation, and a potential Shadow boyfriend, who serves as Nikki's servant and protector. Readers who suspend belief will find themselves caught up in a sometimes violent, romantic, complex fantasy that, although not completely satisfying, will tide them over until the next Stephenie Meyer vampire book or Meg Cabot princess title is released." —Booklist
or
Not Currently Available for Direct Purchase