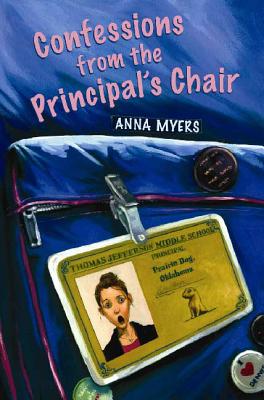 Confessions from the Principal's Chair
Hardcover

* Individual store prices may vary.
Description
In Denver, Robin (a.ka. Bird) is in with the cool clique. They wear the same clothes, talk the same way, and pick on the same girls. But when her Mom hears about a cruel prank against a less popular girl, she isn't going to tolerate the Queen Bee behavior. Within 24 hours, she pulls up stakes and moves them both to Prairie Dog, Oklahoma. Bird is positively furious, and she's going get revenge on her hippy artist mother. In fact, revenge is the only thing keeping her going in the remote town. How she's going to get it, though, she's not sure yet.
When she goes to register at the local middle school, she's mistaken for the interim school principal. Who is Bird to correct the mistake when a prank like this will really get payback on her mom? Though she won't be able to pull this off forever, Bird's determined to make her mark on the middle school before she's found out. But life in the principal's chair is going to give her quite an unexpected change in perspective.
Walker Childrens, 9780802795601, 192pp.
Publication Date: August 22, 2006
About the Author
When Anna Myers was finishing the first grade she announced to her family that instead of graduating to second grade, she would spend the next year teaching the little first graders. Though she didn't begin her teaching career at 7, she did at 22, and taught teenagers her entire life. Anna is the author of more than one dozen books for Walker & Company, including Tulsa Burning, a New York Public Library Book for the Teen Age, Flying Blind, an Oklahoma Book Award finalist, and Assassin, an Oklahoma Book Award winner. This is her first foray into contemporary humor. Anna lives in Tulsa, Oklahoma, with her husband John. Visit her Web site at www.annamyers.info.
or
Not Currently Available for Direct Purchase