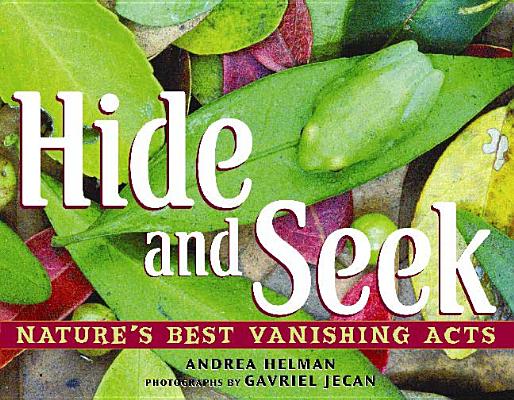 Hide and Seek
Nature's Best Vanishing Acts
Hardcover

* Individual store prices may vary.
Description
First you see them, then you don't!
In habitats around the world, animals rely on clever ways to hide in plain sight. They camouflage themselves in unique ways to avoid danger or to keep undercover while hunting.
Vivid color photographs take readers from one ecosystem to the next, searching high and low for animals using the best tricks of the trade to survive. Blink and you might miss these crafty creatures using camouflage to either outwit or outhunt one another.
Walker Childrens, 9780802796905, 40pp.
Publication Date: February 19, 2008
About the Author
ANDREA HELMAN has worked in print and broadcast media as a writer and producer. She is the author of several wildlife books for children, including O is for Orca and, 1-2-3 Moose. This is her third collaboration with Gavriel Jecan. She lives in Seattle, Washington.
GAVRIEL JECAN's interest in nature and photography began as a child in the mountains of Romania. He settled in the U.S. after escaping Communist Romania and started his professional career working with Art Wolfe. He has been traveling the world ever since, and his photographs appear regularly in National Geographic and International Wildlife. He splits his time between in Seattle, Washington, and Thailand. Visit his Web site at www.gavrieljecanphotography.com