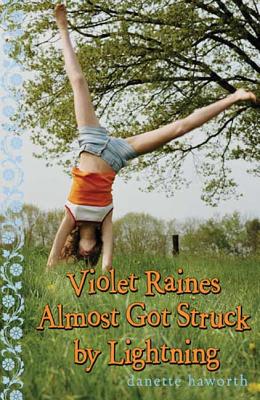 Violet Raines Almost Got Struck by Lightning (Hardcover)
Walker & Company, 9780802797919, 162pp.
Publication Date: September 1, 2008
* Individual store prices may vary.
or
Not Currently Available for Direct Purchase
Description
Violet is happy with things just the way they are in her sleepy, backwoods Florida town. She loves going to the fish fry with her best friend Lottie, and collecting Brain Freeze cups with her good friend Eddie. She loves squeezing into the open trunk of the old cypress tree, looking for alligators in the river, and witnessing lightning storms on a warm summer day. But when Melissa moves to town from big city Detroit, all of a sudden Violet's supposed to want to wear makeup, and talk about boys, and play Truth or Dare. Violet's not interested in any of those things . . . but with the help of her friends, her mama, a few run-ins with lightning, and maybe even Melissa, Violet finds that growing up doesn't have to mean changing who you are. Violet's story is a classic tale of best friends, budding romance, and bad storms, and her authentic, pitch-perfect voice is sure to stay with readers long after the very last page.
About the Author
Danette Haworth held a number of writing jobs before turning to fiction, including positions as a technical writer and a travel writer. Growing up in a military family, Danette lived up and down the East Coast and in Turkey and England; she now calls Orlando, FL, her home. Violet Raines Almost Got Struck by Lightning is her first novel. She blogs regularly, and hopes that you'll visit her at www.danettehaworth.com
Praise For Violet Raines Almost Got Struck by Lightning…
From School Library Journal
"Eleven-year-old Violet Raines is no "shrinking violet," especially when it comes to girlie girl Melissa Gold, whose family has just moved to her small Florida town in the 1970s. Violet's best friend, Lottie, is fascinated by Melissa and her talk of life in Detroit, "the murder capital of the United States." Violet, however, thinks Melissa is a "priss" and proves it by showing her the fish-head bucket at the Sunday fish fry (Melissa runs away to vomit). After Lottie's house is struck by lightning, she and her sisters stay at Melissa's big house, much to Violet's chagrin. While Melissa and Lottie talk movie stars, makeup, and bras, Violet still enjoys squeezing into the tree cave, exploring outdoors, and hanging out with her childhood buddy Eddie. Haworth takes on coming-of-age dilemmas with spunk, innocence, and a cast of believable, well-developed characters, describing the challenges kids face when one friend matures faster than another, the two-against-one pitting of girl trios, and budding romance. Violet passes through the last doors of childhood and into the uncertain entryway of junior high with acute sensitivity while maintaining her authentic sense of self and the surprising, satisfying support of her friends. An enjoyable read with plenty of discussible points about relationships."
From Kirkus Reviews 
"A coming-of-age tale that is as full of sass as its uniquely named protagonist. At 11, Violet is caught betwixt and between childhood and adolescence. She remains very much a child, reveling in hollowed-out tree trunks and playing Barbies with her best friend's little sister. However, just like the ominous atmospheric changes occurring prior to turbulent weather, Violet's growing awareness of a developmental shift among her peers leaves her unsettled and unsure. Caught in this transformation is Violet's relationship with Lottie, which is complicated by the upheaval caused by newcomer Melissa, who has one foot firmly planted in adolescence. Rumblings of romantic changes in her friendship with Eddie also add to Violet's confusion. Haworth deftly explores Violet's ambivalence toward growing up with an authenticity that will resonate with readers, who will appreciate her competent management of such crucial tween issues as best friends, fidelity and impending maturity. Violet is a worthy ally for readers navigating their own stormy evolution."
Advertisement