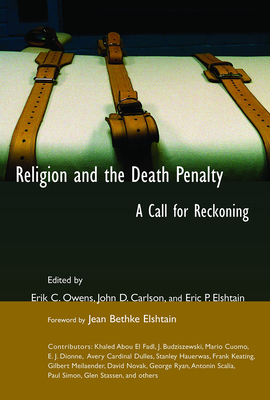 Religion and the Death Penalty
A Call for Reckoning (Eerdmans Religion)
Paperback

* Individual store prices may vary.
Description
Foreword by Jean Bethke Elshtain This important book is sure to foster informed public discussion about the death penalty by deepening readers' understanding of how religious beliefs and perspectives shape this contentious issue. Featuring a fair, balanced appraisal of its topic, Religion and the Death Penalty brings thoughtful religious reflection to bear on current challenges facing the capital justice system. One look at the list of contributors reveals the significance of this book. Here are recognized leaders from the academy, government, and public life who also represent a wide range of faith commitments, including Jewish, Christian, and Muslim. Like many people of faith and goodwill, the authors disagree with one another, variously supporting retention, reform, or abolition of capital punishment. As a result, the book presents the most comprehensive and well-rounded religiously oriented discussion of the death penalty available. Contributors: Khaled Abou El Fadl Victor Anderson Jeanne Bishop J. Budziszewski John D. Carlson Mario M. Cuomo E. J. Dionne Jr. Avery Cardinal Dulles, S. J. Eric P. Elshtain Richard W. Garnett Stanley Hauerwas Frank Keating Gilbert Meilaender David Novak Erik C. Owens George H. Ryan Antonin Scalia Paul Simon Glen H. Stassen Michael L. Westmoreland-White Beth Wilkinson.
William B. Eerdmans Publishing Company, 9780802821720, 294pp.
Publication Date: August 1, 2004