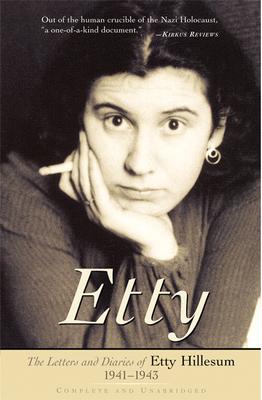 Etty
The Letters and Diaries of Etty Hillesum 1941-1943
Hardcover

* Individual store prices may vary.
Description
Commissioned by the Etty Hillesum Foundation, "Etty" is the only complete, unabridged edition of the letters and diaries of a singular hero -- and victim -- of the Nazi Holocaust.
This fascinating, profound, and often moving body of work reveals the interior life of a brilliant young Jewish woman. Born in January 1914, Etty Hillesum began her diary in 1941, nine months after Hitler invaded her home country of the Netherlands. The record she kept for the next two years contains arresting personal reflections and chronicles her social, intellectual, and -- most significantly -- spiritual growth. In addition to her ongoing search for God and truth, one of the most noted and instructive features of Ettys development was her recognition of, and her struggle to overcome, the disorder within her own being. It was her success in finally transcending her own sense of captivity within that allowed her to rise above cruel and fearsome circumstances without.
Indeed, in the midst of the horrors of the Nazi Holocaust, Ettys writings reveal a woman who celebrated life and remained an undaunted example of courage, sympathy, and compassion. Letters that she wrote to friends during her internment at the Westerbork transit camp poignantly describe the day-to-day horrors that the Jewish prisoners faced. Nonetheless, Ettys courage and determination remained strong, allowing her to rise above the hate around her and express her irrepressible faith in humanity. As she wrote in her last letter, thrown from the train that took her to her death at Auschwitz, We left the camp singing.
Through this splendid edition of Ettys writing, edited by Klaas A. D. Smelik and translated by Arnold J. Pomerans,readers everywhere will resonate with the spirit of this remarkable woman.

Wm. B. Eerdmans Publishing Company, 9780802839596, 800pp.
Publication Date: October 1, 2002
or
Not Currently Available for Direct Purchase