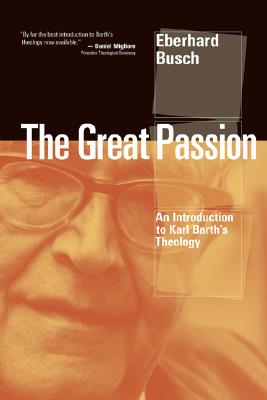 The Great Passion: An Introduction to Karl Barth's Theology (Hardcover)
An Introduction to Karl Barth's Theology
Wm. B. Eerdmans Publishing Company, 9780802848932, 302pp.
Publication Date: November 1, 2004
* Individual store prices may vary.
or
Not Currently Available for Direct Purchase
Description
Widely regarded as the twentieth centurybs greatest theologian, Karth Barth refocused the task of Christian theology and demonstrated its relevance to every domain of human life, from the spiritual to the social to the political. It is precisely the broad sweep of Barthbs theology that makes a book like "The Great Passion" of such great value -- a succinct yet comprehensive introduction to Barthbs entire theological program.
Of the many people who write on the life and thought of Karl Barth, Eberhard Busch is uniquely placed. A world-renowned expert on Barthbs theology, he also served as Barthbs personal assistant from 1965 to 1968. As Busch explains, one cannot fully understand Barth the theologian apart from understanding Barth the man. In this book he weaves doctrine and biography into a superb presentation of Barthbs complete work.
Buschbs purpose in this introduction is to guide readers through the main themes of the multivolume "Church Dogmatics" against the horizon of our own times and problems. In ten sections Busch clearly explains Barthbs views on all of the major subject areas of systematic theology: the nature of revelation, Israel and Christology, the Trinity and the doctrine of predestination, the bproblemb of religion, gospel and law, creation, salvation, the Holy Spirit, ecclesiology, and eschatology.
A distinctive feature of the book is the way Busch lets Barth speak for himself, often through surprising quotations and paraphrases. Busch also shows how Barthbs writing should be read as a dialogue, constantly and consciously engaging other voices past and present, both inside and outside the church. Most important, "The Great Passion" demonstrates that Barthbsthought is still remarkably helpful today.

Advertisement