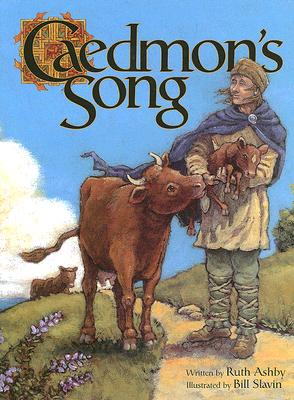 Caedmon's Song (Hardcover)
Eerdmans Books for Young Readers, 9780802852410, 32pp.
Publication Date: January 1, 2006
Description
Long ago, when hardly anyone knew how to read or write, people recited stories by heart. They sat around the hearth at night, telling of heroes and monsters, great battles fought, and fortunes made and lost. On feast days, they passed the harp around the room so that everyone could sing a poem. But when the harp reached Caedmon, his thoughts dried up. He opened his mouth and nothing at all came out. It was embarrassing. No wonder he hated poetry.A quiet man who loved tending his cows, Caedmon couldn't recite poetry because he thought he had no stories to tell. Then after one especially upsetting experience, Caedmon stormed home, fell asleep in the barn, and began to dream. That night, everything changed for Caedmon . . .With jovial, heartwarming illustrations and beautifully illuminated letters, this tale is based on the true story of Caedmon, the seventh-century cowherd who became known as the first English poet.
About the Author
Ruth Ashby has written a number of books for children. Most recently, she wrote"Pteranodon: The Life Story of a Pterosaur"(Abrams), "Anne Frank: Young Diarist"(Aladdin), and"Rocket Man: The Mercury Adventure of John Glenn"(Peachtree), which was a NSTA-CBC Outstanding Science Trade Books selection. She lives in Huntington, New York.

Bill Slavin has been writing and drawing since he was seven years old and has illustrated many books for children, including"Gonzalo Grabs the Good Life"and"Something to Tell the Grandcows"(both Eerdmans). He has received numerous awards, including the Blue Spruce Award and the CLC Amelia Frances Howard-Gibbon Illustrator's medal, both for his book"Stanley's Party." Bill lives in Ontario and chronicles his latest work on his blog, Elephants Never Forget. ""
Advertisement