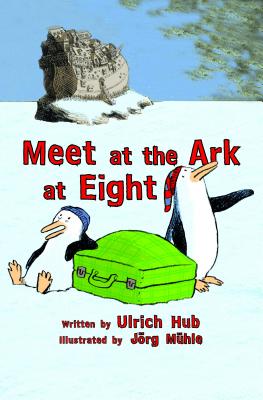 Meet at the Ark at Eight (Hardcover)
Eerdmans Books for Young Readers, 9780802854100, 66pp.
Publication Date: August 20, 2012
Description
News reaches a pair of penguins that a great flood is coming to destroy the earth -- and that they are the only two penguins who have been chosen to board Noah's Ark. They decide, however, to smuggle their friend aboard in a suitcase, and a wild forty-day journey ensues.
This creative twist on the classic biblical tale encourages readers to ask questions about God, though it never presumes that the answers will be quick and easy. Ulrich Hub's humorous, yet thought-provoking retelling of this well-known Bible story is complemented by Jorg Muhle's witty illustrations.
About the Author
Ulrich Hub is a German writer, actor, director, and screenwriter. He has written several plays for children as well as for adults. Meet at the Ark at Eight is his first novel. Ulrich lives in Germany. Jorg Muhle studied art in Paris and has been a freelance illustrator since 2000. He has also worked as a professor, and has published a number of titles for children in German. Jorg also lives in Germany.
Advertisement