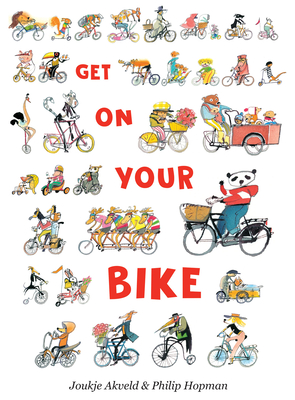 Get on Your Bike (Hardcover)
Eerdmans Books for Young Readers, 9780802854896, 32pp.
Publication Date: February 5, 2018
* Individual store prices may vary.
Description
An inviting book about resolving conflicts
Bobby and William aren't quite sure how the argument started, but it escalates until William gets so frustrated he tells Bobby to leave. Bobby does just that, hopping on his bike and furiously riding away. As he travels through the city and into the country-side, though, he begins to calm down. Maybe William had a point after all? Bobby bikes back into town, hoping William will for-give him, and discovers that he's not the only one who wants to apologize.
With mesmerizing illustrations reminiscent of Richard Scarry, this vibrant book offers a sensitive, realistic portrayal of a conflict ...and a compromise.
About the Author
Joukje Akveld is a freelance journalist living in the Netherlands. When she's not writing her own books, she writes about children's books and theatre for newspapers and magazines. In 2016 she won the Silver Slate Pencil Award for A Monkey in the Bathroom: A Zoo in Wartime (Hoogland & Van Klaveren). Visit her website at www.joukjeakveld.com.Philip Hopman studied at the Rietveld Academy and has illustrated more than 250 books, including A Dog Like Sam, Mikis and the Donkey, and Soldier Bear (all Eerdmans). He lives in the Netherlands.