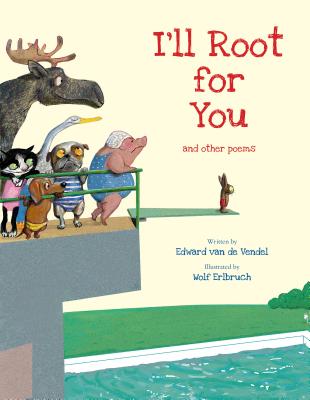 I'll Root for You (Hardcover)
Eerdmans Books for Young Readers, 9780802855015, 44pp.
Publication Date: August 7, 2018
* Individual store prices may vary.
Description
A collection of poems that's sure to be a winner
This delightful poetry collection is the perfect cheerleader for young athletes . . . especially ones who may not be the most athletic. Edward van de Vendel introduces readers to a world where elephants figure skate, frogs win the Diversity Olympics, and a pig quits the football team for gymnastics, even though everyone laughs at his leotard. Paired with winsome illustra-tions, the poems--sometimes silly, sometimes sincere--encourage young readers to pursue their goals, try their best, and take pride in themselves, whether they win or lose.
This irrepressibly joyful book from an award-winning team will have readers cheering for more.
About the Author
Edward van de Vendel has written dozens of books for children and young adults, including The Dog That Nino Didn't Have, A Dog Like Sam, and Sam in Winter (all Eerdmans). He was nominated for the Astrid Lindgren Memorial Award in 2011 and 2012. He lives in the Netherlands. Visit his website at www.edwardvandevendel.com.Wolf Erlbruch is a German illustrator and children's book writer. His previous books include Duck, Death and the Tulip and The King and the Sea (both Gecko Press). He was awarded the Hans Christian Andersen Award for illustration in 2006, and in 2017 he became the first German to win the Astrid Lindgren Memorial Award.