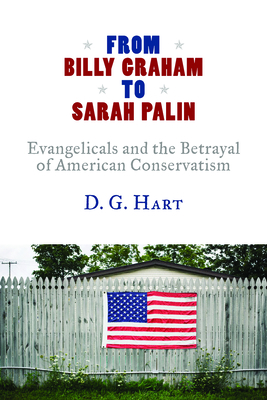 From Billy Graham to Sarah Palin
Evangelicals and the Betrayal of American Conservatism
Hardcover

* Individual store prices may vary.
Description
From Billy Graham to Sarah Palin provides an iconoclastic new history of the entrance of evangelical Christians into national American politics. Examining the key players of the "Religious Right" -- Billy Graham, Jerry Falwell, Chuck Colson, James Dobson, Pat Robertson, and many others -- D. G. Hart argues that evangelicalism is (and always has been) a bad fit with classic political conservatism. Hart shows how the uneasy alliance of these unlikely political bedfellows has contributed directly to the fragmentation of today's conservative movement. He contends that the ongoing burden of reconciling the progressive moral idealism of religious conservatives with the sober realism of political conservatives increasingly threatens this precarious partnership. Moreover, Hart suggests that evangelicals are unlikely to remain politically conservative in the long term unless they stop looking to big government to solve societal woes at home and abroad and at last embrace classic small-government conservatism for its own sake.
William B. Eerdmans Publishing Company, 9780802866288, 237pp.
Publication Date: July 7, 2011
or
Not Currently Available for Direct Purchase