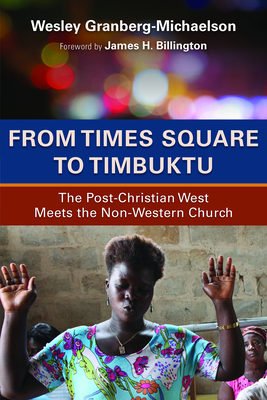 From Times Square to Timbuktu
The Post-Christian West Meets the Non-Western Church
Paperback

* Individual store prices may vary.
Description
In the last century, amazingly, world Christianity's center of gravity has effectively moved from Europe to a point near Timbuktu in Africa. Never in the history of Christianity has there been such a rapid and dramatic shift in where Christians are located in the world. Wesley Granberg-Michaelson explores the consequences of this shift for congregations in North America, specifically for the efforts to build Christian unity in the face of new and challenging divisions. Centers of religious power, money, and theological capital remain entrenched in the global, secularized North while the Christian majority thrives and rapidly grows in the global South. World Christianity's most decisive twenty-first-century challenge, Granberg-Michaelson argues, is to build meaningful bridges between faithful churches in the global North and the spiritually exuberant churches of the global South. Watch the trailer:

William B. Eerdmans Publishing Company, 9780802869685, 175pp.
Publication Date: August 18, 2013
or
Not Currently Available for Direct Purchase