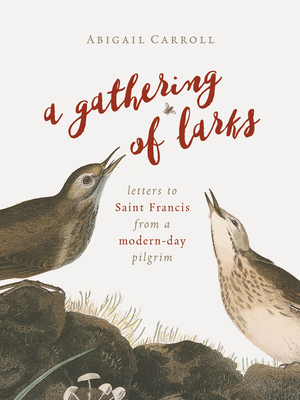 A Gathering of Larks (Paperback)
Letters to Saint Francis from a Modern-Day Pilgrim
William B. Eerdmans Publishing Company, 9780802874450, 108pp.
Publication Date: March 6, 2017
* Individual store prices may vary.
Description

Who was Saint Francis? Today he is most often a sweet ceramic statue in a garden, a sentimentalized romantic figure. But A Gathering of Larks, containing forty personal letters from Abigail Carroll to Francis, reveals him to be a complex man who lived a fascinating life of radical faith.

These letters--part devotion, part historical biography, part contemporary engagement, and part inspiration--reveal Carroll's curiosity and wonder about Francis. She celebrates his whimsical idealism and impetuousness, explores his spirituality and commitment to poverty, and sometimes even questions him. She also uses Francis as a sounding board for larger questions about the world--and, through her own experience, explores how brokenness makes experiencing redemption possible.

As beautiful as it is insightful, alight with a pilgrim's growing sense of discovery, A Gathering of Larks has both range and depth that will uplift readers and challenge them to better understand this singular saint and how he might speak to and shape their way of living in today's world.
About the Author
Abigail Carroll is the author of Three Squares: The Invention of the American Meal, which was a finalist for the Zocalo Public Square Book Prize. Her work has also appeared in The New York Times, The Wall Street Journal, The Huffington Post, and Sojourners.