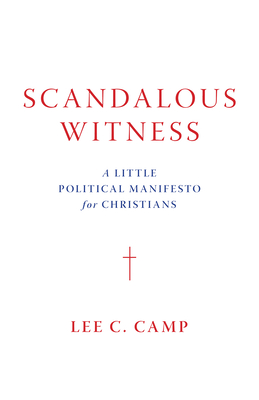 Scandalous Witness
A Little Political Manifesto for Christians
Hardcover

* Individual store prices may vary.
Description
Christian identity is in moral and political crisis, scandalized by the many ways in which it has been coopted and misrepresented. Addressing this painful reality, Lee Camp writes that Christianity in America has been made into a bad public joke because of "our failure to rightly understand what Christianity is." From this provocative claim, Camp's manifesto makes the convincing case that a renewed Christian politic is more essential than ever, one that is "neither left nor right nor religious," but a prophetic way of life modeled after Jesus of Nazareth.
Camp's robust vision exposes modern parodies of faith--the American concept of "Christian values," for one--and challenges Christians to rethink who they are and how they participate in the modern world. Authentic gospel truth is a scandal to the American myth, he argues, and we are called to be scandalous witnesses.
William B. Eerdmans Publishing Company, 9780802877352, 192pp.
Publication Date: March 10, 2020
About the Author
Lee C. Camp is professor of Theology & Ethics at Lipscomb University in Nashville. He is the author of Mere Discipleship: Radical Christianity in a Rebellious World and Who Is My Enemy: Questions American Christians Must Face About Islam, and Themselves. Lee finds great joy in teaching college and seminary students, flying sailplanes, and hosting Tokens Show, the world's only long-running theological variety show, which you can find online at www.TokensShow.com.