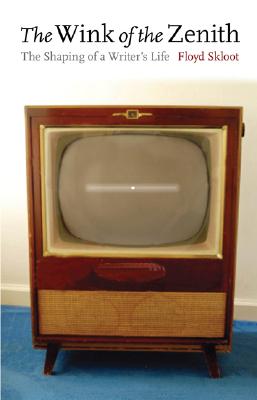 The Wink of the Zenith
The Shaping of a Writer's Life
Hardcover

* Individual store prices may vary.
Description
In his three previous memoirs, Floyd Skloot grappled with the brain-ravaging virus that struck him at forty-one. He was, as the San Francisco Chronicle noted, "shaping the experience of crippling illness into dazzling literature." How such alchemy is performed—where, in fact, the magic comes from—is the subject of Skloot's new book, a memoir of the making of a writer.
 Sifting through memories and observations to discover how circumstance and nature conspired to make him the writer he is, Skloot enacts in this book the very process he describes, the shaping of a writer's life. Among the influences of family and close friendship, experience and popular culture, he uncovers a unique and telling perspective on the forging of a writer's individual sensibility. At the same time, his book explores fundamental questions about how life shapes the creative spirit—and how, in turn the writer makes sense of it all and gives life a new and meaningful shape in the form of literature.
Praise For The Wink of the Zenith: The Shaping of a Writer's Life…
"Skloot is such a fine writer that he can—and does—write about eating 'baloney and eggs' and makes it seem fascinating. Writers at any stage of their careers will treasure this volume of clean, expressive prose that delights without ever showing off."—Publishers Weekly, starred review

"Skloot unravels the tangled thread of his own life story with a sense of urgency often missing from linear memoir; and in so doing, he shows us that while truth and fact may be intimately connected, meaning itself is in the telling."—Courtney Arnold, ForeWord Magazine  

"Wise, thoughtful."—Booklist
 


"Eloquent and affecting"—Harvey Freedenberg, Shelf Awareness

"A book to be savored, not gulped down but tasted, essay by essay, allowing time to be amazed at how Skloot's insights beam directly into our souls."—Penny Allen, OregonLive.com

"A full-color portrait of Skloot's boyhood that rings with authenticity."—Jenny Shank, New West
University of Nebraska Press, 9780803211193, 252pp.
Publication Date: September 1, 2008
About the Author
Floyd Skloot is the author of four novels, most recently Patient 002; six collections of poetry, including The End of Dreams; a collection of essays; and three previous memoirs. He is the winner of three Pushcart Prizes, the most recent for his essay, "The Voice of the Past," which appears in The Wink of the Zenith. His memoir In the Shadow of Memory (available in a Bison Books edition) was named a Best of 2003 nonfiction title by the Chicago Tribune and was a 2003 Barnes & Noble Discover Great New Writers Award nonfiction finalist. His memoir A World of Light (Nebraska 2005) was a New York Times Book Review Editor's Choice selection for 2005.