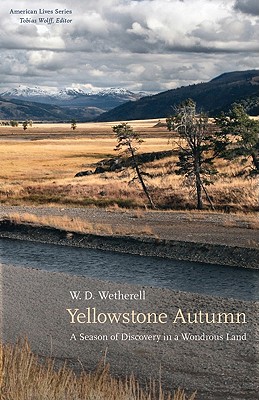 Yellowstone Autumn
A Season of Discovery in a Wondrous Land (American Lives )
Hardcover

* Individual store prices may vary.
Description
Although Yellowstone is our oldest, most iconic, and most popular national park, it is perhaps, in W. D. Wetherell's words, "America's least-known best-known place." Wetherell, arriving at the park on the eve of his fifty-fifth birthday, feels the need to examine where life's mileage has brought him. In the encounter that follows, a writer entering late middle age confronts not only a magnificent corner of the vast American landscape but also the American experience itself. Detailed in the wise, humorous, and lyrical language that has long distinguished W. D. Wetherell's award-winning fiction, this introspective journey merges the fascinating story of Yellowstone's history and geography with the author's own story—of marriage and aging, of fatherhood, and of the solace to be found in the beauty of the natural world. Most of all it's a loving tribute to Yellowstone in autumn, the season when the park and its glories are absolutely at their peak.
Praise For Yellowstone Autumn: A Season of Discovery in a Wondrous Land (American Lives )…
"[Wetherell] offers a refreshingly original set of observations on all manner of things, particularly the advance of years, which men are supposed to endure stoically and with mouths clamped shut. . . . Wetherell, pondering the history and meaning of wild Yellowstone, concludes that fishing is what matters in life, and ties on a 'big Wooly Bugger and [plays] the chuck-and-duck game instead.' A pleasure for men entering autumn, and for anyone who knows how to flick a line."—Kirkus

"Literary stylists will appreciate Wetherell's techniques for expressing youth's passing, while readers acquainted with his essay's backdrop should savor his descriptive passages of Yellowstone's autumnal flora and fauna. A fine companion for the fireside, perhaps at the Old Faithful Inn itself."—Gilbert Taylor, Booklist

"This is Yellowstone as a coming-of-age story. . . . Wetherell goes deep into life and although his own, it is one that translates exceedingly well to others."—Montana Quarterly

"An engaging blend of history lesson, fly-fishing essay and philosophical treatise, Yellowstone Autumn describes a veteran writer's three weeks of solitude in Yellowstone National Park. . . . In the tradition of Henry David Thoreau and Edward Abbey, Wetherell contemplates his relationship to the land, people and wildlife, including old bison bulls, his wife, thermal pools and his own body."—Cherie Newman, High Country News

"[W. D. Wetherell] deftly and gently combines the history of Yellowstone with his own history of marriage, aging fatherhood, award-winning writing and his relationship with his father and ends up providing the reader with an appreciation for both the beauty and solitude of Yellowstone but also the rewards of a life well lived, warts and all."—Mike Nobles, Oklahoma Observer

"Wetherell's soul-stirring prose is not simply a journey of self discovery—it's a tribute to the American experience, and the landscape that makes it possible."—National Parks
University of Nebraska Press, 9780803211308, 178pp.
Publication Date: March 1, 2009
About the Author
W. D. Wetherell's sixteen books include A Century of November, Chekhov's Sister, North of Now, and The Man Who Loved Levittown. His work has won three O. Henry Awards, the National Magazine Award, the Drue Heinz Literature Award, and grants from the American Academy of Arts and Letters as well as the National Endowment for the Arts.