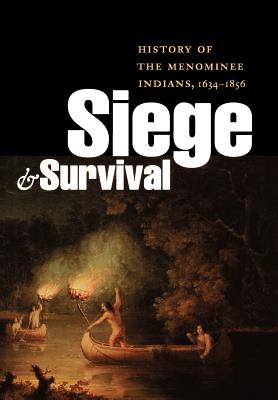 Siege and Survival
History of the Menominee Indians, 1634-1856
Hardcover

* Individual store prices may vary.
Description
The Menominee Indians, or "wild rice people," have lived for thousands of years in the region that is now called Wisconsin and are the oldest Native American community that still lives there. But the Menominee's struggle for survival and rights to their land has been long and hard.
David R. M. Beck draws on interviews with tribal members, stories recorded by earlier researchers, and exhaustive archival research to give us a full account of the Menominee's early history. Beginning in the seventeenth century, the Menominee's traditional way of life was intensely pressured by a succession of outsiders. Native nations attacked other Native nations, forcing their dislocation, and Europeans introduced the fur trade to the area, disrupting the traditional economy and way of life. In the nineteenth century Anglo-Americans poured into the Old Northwest and surrounded the Menominee; as a result the Menominee people were confined to a reservation in 1854.
Beck examines these crucial early events from an ethnohistorical perspective, adding Menominee voices to the story and showing how numerous individuals and leaders in the trading era and later worked diligently to survive. The story is a complicated one: some Menominees encouraged radical cultural change, while others—as well as some non-Menominees—aided the community in its struggle to maintain traditions. Beck provides the most complete written history to date of this enduring Indian nation.
Praise For Siege and Survival: History of the Menominee Indians, 1634-1856…
"I recommend the greater part of this book not only as a generally reliable guide to post-contact pre-1856 Menominee history but as a decidedly engaging one as well."—Journal of the Royal Anthropological Institute
— Journal of the Royal Anthropological Institute
University of Nebraska Press, 9780803213302, 294pp.
Publication Date: December 1, 2002
About the Author
David R. M. Beck is a professor of Native American studies at the University of Montana. He is the author of The Chicago American Indian Community, 1893–1988: Annotated Bibliography and Guide to Sources in Chicago.