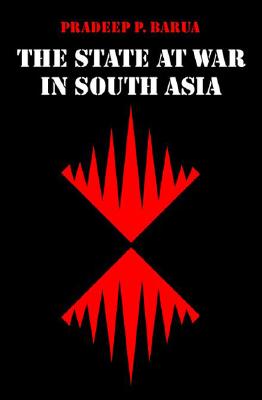 The State at War in South Asia (Studies in War, Society, and the Military) (Hardcover)
University of Nebraska Press, 9780803213449, 440pp.
Publication Date: May 1, 2005
* Individual store prices may vary.
Description
Much research has been done on Western warfare and state building but very little on the military effectiveness of states, until now. Using South Asia as a case study, The State at War in South Asia examines how the state, from prehistory to modern times, has managed to wage war.
The State at War in South Asia is the first book to cover such a vast period of South Asian military history—more than three thousand years. In doing so, Pradeep P. Barua explores the state's military effectiveness and moves beyond the western and nonwestern dichotomy characterized by most military analysis to date. He leads the reader through a selective study of significant battles, campaigns, and wars fought on the subcontinent. Barua combines this overview with an analysis of the state-building process, showing how the South Asian state has conducted war under its many political guises from the prehistoric and ancient periods to the modern era, with its threat of nuclear war. He challenges the historiographic idea that the Western way of war is superior, while examining in detail those battles, such as the Maratha-Afghan battle of 1763, that offer the most insight into the introduction of new tactics, organization, and technology. This meticulous study offers a panoramic view of the evolution of the South Asian state's military system and its contribution to the effectiveness of the state itself.
About the Author
Pradeep P. Barua is an associate professor of history at the University of Nebraska at Kearney. He is the author of Gentlemen of the Raj: The Indian Army Officer Corps, 1817–1949.
Praise For The State at War in South Asia (Studies in War, Society, and the Military)…
"Pradeep P. Barua's book fills a gap in the existing literature on war, politics, and state-building on the subcontinent. . . . His contribution lies in his extraordinary ability to synthesize knowledge from disparate areas of historical scholarship and show, to borrow Charles Tilly's language, how the state made ware and war made the state in South Asia."—Sumit Ganguly, American Historical Review
— Sumit Ganguly
"An interesting history of war and society in the Indian subcontinent from ancient times to the present, which takes issue with the Hansen thesis that the 'Western Way of War' is more violent and decisive than anyone else's, and is critical of some traditional views of ancient Indian history. . . . The State at War in South Asia is likely to be of value to anyone with a general interest in military history or to the more serious student of warfare in the region."—The NYMAS Review, a publication of the New York Military Affairs Symposium
"The State at War in South Asia offers a timely, ambitious, and occasionally provocative account of the interplay between political and military developments in the Indian subcontinent over the past four millennia."—Douglas M. Peers, Journal of Military History
— Douglas M. Peers
or
Not Currently Available for Direct Purchase