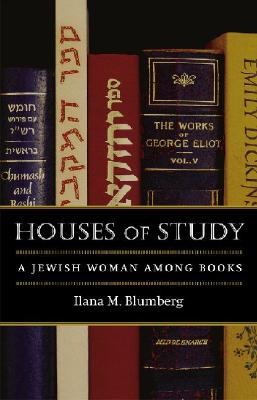 Houses of Study
A Jewish Woman among Books
Hardcover

* Individual store prices may vary.
Other Editions of This Title:
Paperback (3/1/2009)
Description
To learn was to live, and to learn well was to live well. This was the lesson of both cultures of the Modern Orthodox Jewish world in which Ilana Blumberg was educated, with its commitment to traditional Jewish practice and ideas alongside an appreciation for modern, secular wisdom. But when the paths of Jewish tradition and secular wisdom inevitably diverge, applying this lesson can become extraordinarily tricky, especially for a woman. Blumberg's memoir of negotiating these two worlds is the story of how a Jewish woman's life was shaped by a passion for learning; it is also a rare look into the life of Modern Orthodoxy, the twentieth-century movement of Judaism that tries to reconcile modernity with tradition. Blumberg traces her own path from a childhood immersed in Hebrew and classical Judaic texts as well as Anglo-American novels and biographies, to a womanhood where the two literatures suddenly represent mutually exclusive possibilities for life. Set in "houses of study," from a Jewish grammar school and high school to a Jerusalem yeshiva for women to a secular American university, her memoir asks, in an intimate and poignant manner: what happens when the traditional Jewish ideal of learning asserts itself in a body that is female—a body directed by that same tradition toward a life of modesty, early marriage, and motherhood?
Praise For Houses of Study: A Jewish Woman among Books…
"Ilana Blumberg captures the voice of a generation of religious Jewish women, in love with Judaism and in love with learning. Her book is the autobiography of the feminist era and its spiritual passions."—Susannah Heschel, Eli Black Associate Professor of Jewish Studies at Dartmouth College and author of Abraham Geiger and the Jewish Jesus

"In its originality of approach, vigor and beauty of style, and fierce honesty in naming and exploring uncharted territories, this book is a great contribution to women's studies, autobiography and memoir, and Jewish studies."—Mary Gordon, author of Final Payments and The Company of Women

"Tension wraps around the pages of Blumberg's memoir, an ardent intellectual autobiography by a woman in love with both Jewish texts and secular literature. . . . [H]er memoir elucidates . . . the passion for study no matter what a person's gender."—Publishers Weekly

"This book is a union of letters and texts no less magnetic; to enter Ilana Blumberg's houses of study is, invariably, to become ignited."—Lilith

"A book that deserves a serious readership: a memoir that reads like a poem, a voice that's intelligent, brave, passionate and conversant."—Sandee Brawarsky, Jewish Week

"This is a poignant and perceptive account of how a highly educated Jewish woman managed to combine her extensive Jewish knowledge with her insights into English literature. Her journey toward mature awareness, so well described here, has many impediments and we are privileged to take this trip with her."—Morton I. Teicher, National Jewish Post & Opinion
University of Nebraska Press, 9780803213678, 182pp.
Publication Date: March 1, 2007
About the Author
Ilana M. Blumberg is an assistant professor of humanities, culture, and writing at James Madison College, Michigan State University.
or
Not Currently Available for Direct Purchase